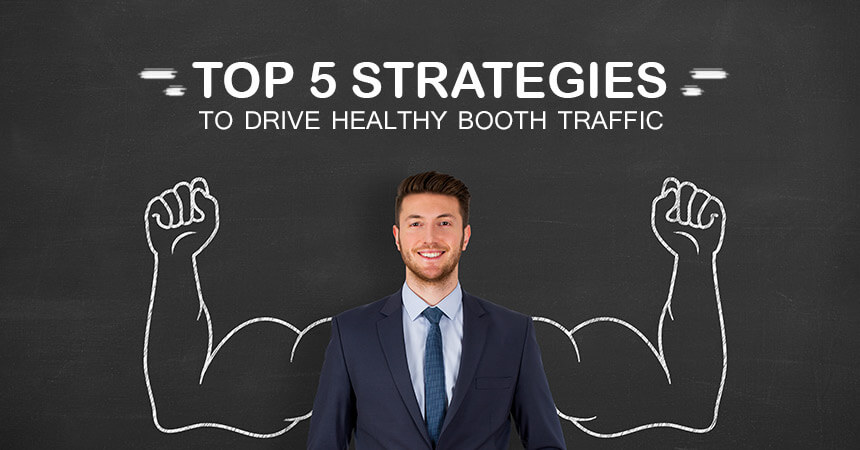 Top 5 Strategies to Drive Healthy Booth Traffic
Top 5 Strategies to Drive Healthy Booth Traffic
What you don't need:
To hear about the wild potential of your trade show booth growing your business. You know that already.
What you might need:
Strategies to attract prospects to your booth. If so, read on for our top 5 strategies to drive healthy booth traffic.
Surprise, here is the top 5 list right off the bat:
Booth design, messaging, and lighting
Pre-show outreach and advertising
Staff behavior, branding, and booth vibe
Interactive content
Giveaways, games, and such
Wait. Booth location didn't make the list? Isn't that the most important factor in traffic?
We believe where your booth is located on the show floor is NOT a determinant of success.
Exhibit Surveys has been researching trade shows since the '60s. Several qualitative and quantitative studies have been conducted to determine the impact of location on overall profitability and success of the show.
They cannot find a correlation. Some locations appear better than others, of course. But never let your booth location be the reason you fail or the reason you succeed.
If you are convinced location does matter, we recommend attending a show yourself to study the traffic patterns and hot spots. There is a psychology to trade show traffic. Human behavior is engrained; we do the same things over and over. Just like the way we typically shop at a grocery store, people will tend to turn right when they first enter an exhibit hall.
So, if you're able to select a booth space, favor the center and right side of the hall. Ideally, position yourself next to landmarks. Select a corner or peninsula exhibit and open the side rail – attendees feel more comfortable in an open environment. If your budget disallows this, attempt to position yourself close to a larger island exhibit.
With that said, let's get into the details of our top 5 strategies to drive traffic
1. Booth Design, Messaging, and Lighting
You have about 3 seconds for attendees to realize who you are, what you do, and why to stop and talk with you. Take advantage of this brief moment in time to be seen so that you can be heard.
Attractive Booth Design for Visual Appeal
This is one of the most important investments in your trade show program. Whether you rent or buy from your exhibit house partner, their design team should work with you to produce appropriate, eye-catching graphics.
The graphics should have an ideal layout, size, placement, and be printed on materials that make sense for your booth. You might even consider deemphasizing your logo and eliminating common buzzwords so that your main message takes 'center stage.'
Concise, Targeted Messaging
If your messaging tries to target everyone at the event, it's targeting nobody. Be direct and specific about what your booth's message is. We recommend always leading with value instead of leading with info about your product or service.
Focus on the WHY of your product or service and speak to your most ideal customer. Join the conversation that is already happening in the prospect's mind.
The confused mind always says no. By simplifying your message, you are more likely to spark interest and engage attendees. Consider using the words "see," "do," "learn," and "get" in your messaging.
These words imply that there is something in it for them. The words "quality," "price," and "service" are the three most overused words in marketing, and better left unused.
Think about who your prospects care about. They care about themselves. Keep the acronym WIIFM in mind. It stands for "what's in it for me." Thinking of it like a radio frequency, tune your message to this. Also, consider what they really want. They want top run benefits.
These are the benefits that the benefits of the features provide. Thinking of it like a ladder, each rung you advance to is a more personal and long-lasting benefit to them. You will be speaking at a pitch no one else on the show floor is.
Lighting for Pizazz
A well-lit booth stands out by registering in the minds of attendees, grabbing their attention. Think of a scene in a movie – lighting sets the scene to be bright and cheerful. A lack of lighting usually means a more ominous scene. Set the proper scene at your booth!
The fact that lighting is often underutilized means even more opportunity to stand out. It's a small investment that generates a positive perception of your company. Consider focusing lighting on your photos and graphics. Visit your local home improvement retailer for light stands and/or floor lights.
2. Pre-show Outreach and Advertising
Marketing your exhibit is one of the most important things you can do to be more successful at trade shows. Doing so gives you a tremendous advantage against your competitors. Your marketing strategy starts with identifying your ideal prospect, also known as your target audience.
 Identifying Your Ideal Prospect
Let's start with the definition of a prospect. A prospect has a need, money, and an urgency to find a solution you are offering. We want to find the small subset of attendees that are actual prospects and separate them from other attendees.
Develop the mindset that you are ok with your non-prospects walking right past your booth. If your design, messaging, and offer are correct, only your prospects will come in. Even if its 2 in 100 people, that is ok.
Who is your ideal prospect? Ideally, you develop a buyer persona which details their attributes, how they make decisions, and what their challenges are. If you have the resources, this can be done in house, or you can have an agency which specializes in this do it for you.
Once you have your ideal prospect defined, take a step back and think about what their problems and frustrations are and apply your products and services to help them. What are the opportunities you can help them seize? Think about the result it delivers to their entire organization.
Nurture Your Ideal Prospects
With your ideal prospect in mind, think of an offer that is specific and appealing to them. This is known as a lead nurturing asset. Here are a few options:
1. Webinars
2. Blog/article
3. White papers
4. Slideshare
5. Discussion groups
6. Interview for best practices
Coercing people into conversations and following up with them post-show is a very time consuming and inefficient. The better strategy, similar to inbound marketing, is to offer an asset for the prospect to opt-in.
Instead of pushing the prospect, we are pulling. Ideally, you acquire their contact information – their email address at the very least – in exchange for an asset that is useful to them.
Building a Target Visitor List
Where can opt-in prospects be found? The following list sources are an excellent place to focus:
1. Pre-registered attendee list
2. Previous or post-show attendee lists
3. Your company's database
4. Previous show(s) booth visitor lists
5. Recent inquires
6. Distribution channel partner lists
7. Trade publication readership lists
You are combining your internal lists with external lists to develop a master list of your target audience. Zoominfo.com is an excellent resource for customizing the data you want to use. Prospects new to you will need some nurturing – this is where the assets mentioned above are useful.
For the prospects already in your sales funnel or people who are already customers, you would have a different offer, perhaps one they would get at the show. Your goal is to get as many confirmed or verbal commitments as you can – and keep track of these. Consider having your sales team run this strategy.
Never go into a trade show without reaching out to your customers in this way. Don't let them be invited by a competitor.
Calculating Your Exhibit Interaction Capacity
Trade shows are about face to face contact, and you only have a finite amount of capacity and time for interactions. Your exhibit interaction capacity is probably one of the most important numbers in your entire trade show program.
First, determine your total exhibiting hours for the whole show and multiply this number by your total booth staff on duty to derive total staff hours (e.g., 25 exhibiting hours x 3 booth staff on duty = 75 total staff hours). The rule of thumb for booth staff is 50 sq ft for reach staffer.
If you have a 10×10 ft booth, that is a max of 2, maybe 3, staffers to have enough space for the traffic. Next, multiply total staff hours by the target number of interactions per hour per staffer. 3 is a conservative number, 4 is moderate, and 5 is an aggressive number. Instead of picking one, you might calculate a range.
75 total staff hours x 3 = 225 and 75 x 5 = 375 so your exhibit interaction capacity range would be 225 – 375. Measure this with your target visitor list. Your list should be 5 times the amount of your capacity.
So, going with the conservative end of the range, your goal would be to get in the mind, get on the agenda of at least 225 people before the show. Having your capacity mapped out, and the expectation of talking with targeted prospects gives you an advantage.
Outreach
Armed with a segmented prospect list, use your channels (email, social media, website, etc.) to reach out to them with appropriate nurturing assets and invite them to the show. When appropriate, tie in your plans for the show.
Will you be conducting product demos? Will you have a special guest or celebrity? Will you have interactive content or special entertainment? A special announcement they can't miss?
For your most valuable attendees, such as your best customers, consider wowing them with a formal invitation. If possible, include free trade show tickets or other beneficial perks for attending the show as your guest.
Landing Page and Search Engine Optimization (SEO)
This is a strategy that is a bit more difficult to implement but can be tremendously beneficial if utilized. At least six months before a trade show, build a landing page on your website that is optimized for the terms and hashtags for the show.
On the page, talk about your company, where your booth will be, what you have planned for the show, and some unique content. A few weeks out from the show, people will be searching for terms related to the show, such as how they get to the show, which hotels to book, and what the venue is like.
If your landing page is on the front page of Google, these people might be visiting your landing page and becoming interested in visiting your booth.
3. Staff Behavior, Branding, and Booth Vibe
Research shows that attendees weigh their personal interaction with staff over every other factor at the booth. You and your fellow staffers will make the most difference in the success of your trade show booth.
Understand the enormous potential value and opportunity your attendees are as potential customers. Here are some do's and don'ts to seize the opportunity:
Staffing Do's
Do have a warm and outgoing staff, trained on how to approach people openly with curiosity, always looking for ways to connect.
Do employ engagement and enrollment professionals if you do not have in-house staffing options. These are high-energy people that can operate in a real, transactional way. They understand the offer and engage and enroll people in the offer.
Do have your staff well-groomed, versed on your products and services, and your audience profile.
Do wear badges up by chest or shoulder area so attendees do not have to look down to read it. Make it easy to associate staffers name and face right away.
Do step away from the booth to record prospect notes and signal to fellow staffers when you are back. Use an audio recorder or your phone if you speak faster than you type. Use a method that works best for you but only takes a minute or two so you can get back at it.
Do have staff walk the show floor with a clipboard and seek appropriate opportunities to talk about your offers.
Do be a staff that came to play!
Staff Behavior Don'ts:
Don't have your staff be a security guard to your booth. Your booth should be open and inviting.
Don't sit down. Staff is best on their feet, right by the aisle, and ready to engage with interested attendees.
Don't eat at your booth. Leave, take a break, clean up, check your email or whatever you need to do, and then switch out with a partner.
Don't suffocate your booth with salespeople. They are better outside of the booth, in meetings talking with existing customers and strategic partners.
Branding and Booth Vibe
Your #1 goal is to generate leads, right? Do everything in your power to set yourself up to accomplish that goal. This includes standing out to be noticed. Brand everything; graphics, shirts, or even hats. Walk the show floor with a printed call to action on the back of your shirt if you think that would be successful.
You want to transmit a fun, energetic vibe that attracts people to your booth. During your pre-show internal meetings, have fun and brainstorm ways to stand out. Perhaps you decide your entire staff is going to wear bright orange pants or ugly sweaters. Options are endless to stand out!
Other things to consider: setting up free Wi-Fi, charging stations, or a lounge area at your booth. These can attract attendees of course, but what kind of attendees will they attract? Perhaps attendees that have no desire ever to purchase your product. With all the strategies in this guide, you might not need any tactics like this to drive more traffic to your booth!
4. Interactive Content
Providing interactive content at your booth is a great way to engage targeted prospects and interested passerby.
Here is a list of some options you should consider:
Touch Screens: these allow attendees to interact with you on their own terms and request information such as brochures, videos, surveys, quizzes, or prize entries. Try to capture an email address or other contact information so they can be followed up with.
Entertainment: something your audience would like to see. Possibilities are endless. Consider integrating art, photography, food, music, comedy, or even…magic.
Demos: entertaining live demos are a great way to drive in an audience. A successful demonstration will be remembered long after the show. They can also be a great way to sell direct if you bring inventory to the show. Consider posting your demonstration schedule on Twitter using the show's custom hashtag.
Educational Workshops: teaching is an excellent way for you to showcase your expertise and provide value. After all, one of the reasons people attend trade shows is to learn. Consider posting to Twitter (see above) and have your staff inform attendees of the schedule.
Video: if live demonstrations are not possible, consider a video of a demonstration. Video can be used to communicate to your audience any messages you want to communicate.
Celebrity Appearance: this option might be costly but comes with high reward. Having a celebrity in your booth has the potential to draw a huge crowd and if they are willing to mingle with your audience and endorse you, even better.
Comment Wall: have a physical wall of your booth be a place where attendees can write personal messages or comments. The wall can be a whiteboard, a blackboard, a chalkboard, or even a wall of post-its! Encourage passerby to come and write something. This can be a fun way to gather unique intel.
5. Giveaways, Games, and Such
The previously mentioned strategies should be all you need to drive enough traffic to your booth to maximize your exhibit interaction capacity. But if you feel the need to deploy a giveaway, game, contest, etc., we recommend keeping your booth as tidy and void of clutter as possible. You don't want to distract from your key message.
As the above comic illustrations, what you use to attract is who you will attract. In other words, giving away food will attract hungry people. Giving away water or coffee will attract thirsty people. Offering a fishbowl for business cards attracts contestants.
At best, your giveaway should be the secondary reason to drive traffic to your booth. A best practice here would be to provide a giveaway that is relevant to your product or brand. How do you offer the giveaway? Here are some ideas:
Games: Everyone loves to compete to win. Games benefit humans cognitively, socially, motivationally, and emotionally. This leaves a lasting effect. Games can be as simple as trivia, jumbo board games, or golf putting to prize wheels, slot machines, or even elaborate scavenger hunts.
Quizzes: test your attendees' knowledge. You can develop a quiz about the event, your company, your product or service, or even the city the event is being held in. Quizzes can be informative and fun when done correctly.
Chance: raffles, scratch-offs, and other games of chance can be very popular. Again, keep the prize or giveaway relevant to your product, service, or brand.
Charitable Giving: this is a highly underutilized tactic that immediately shifts perceptions and attitudes. Perhaps for every lead you generate, you offer to plant a tree or every sale could prompt a charitable donation. You'd be surprised at how effective this can be to motivate people.
Conclusion
From what you read in this guide, it should be clear that a big part of ensuring trade show success is planning – what you do before the show. Your booth design, messaging, your outreach to customers and prospects, how you train your staff to be successful, and aligning your giveaways to your product or service can all be planned out long before the show.
We hope this guide leads you to have wildly successful tradeshows from here on out. Feel free to follow up with us about which strategies you adopted and what the outcome was – we would love to hear from you!