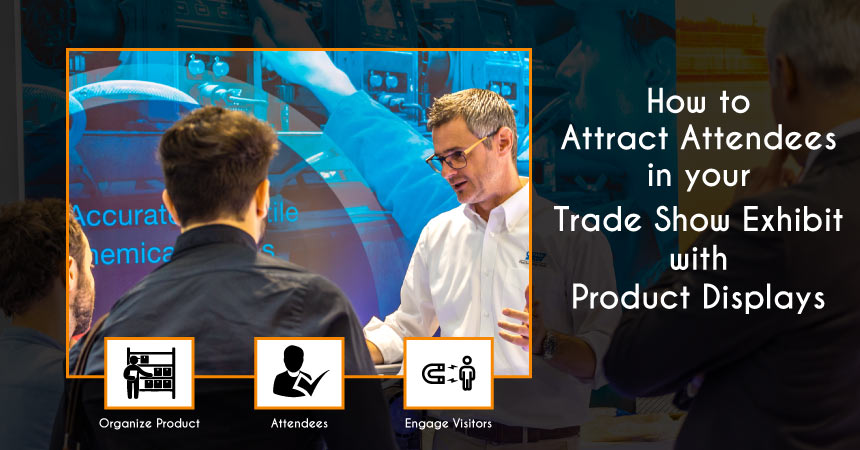 How to Attract Attendees in your Trade show Exhibit with Product Displays
How to Attract Attendees in your Trade show Exhibit with Product Displays
Trade shows are a brilliant place to display your products to a wider audience who are likely interested in products like yours. Escaping the confines of a webpage or a catalog, the products can be first handedly accessed by your loyal customers and curious attendees in the event.
Whether you're pitching your product or service to other businesses, or planning to reach a larger consumer audience, in both cases, you need a trade show exhibit. What matters here is the effectiveness of your product display.
It has been observed that an effective and stylish product display can go a long way in making your booth a memorable one. From the consumer point of view, displaying products at a trade show is beneficial as they can see the product up close and get a better feel for it as well as get to compare products between different manufacturers at the event.
Just like in the store, products should be showcased in an alluring and eye-catching manner. How you display your products can make an impact on sales. And to do so, you need to work on the following three criteria's: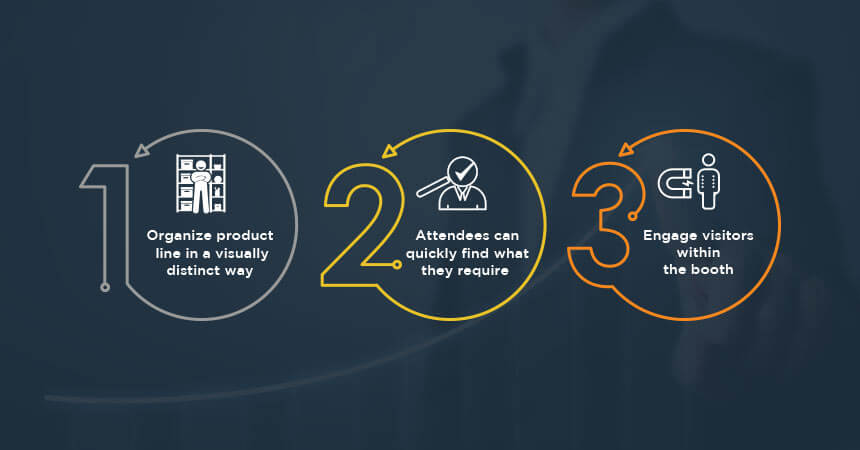 An attention-grabbing product display in a booth can work wonders to support your sales team. And to achieve this, your trade show booth contractor must have clear details such as
What is the size of the products you want to display?
Do they need a special structure to display?
Are you planning a product launch at the event?
Will there be product demonstration sessions?
Do the products need to be secured for safety?
To make your product display work you need to think about the big picture. Strategically plan your trade show exhibit display by adding new elements that can help make your product look their bests, but at the same time, you need to plan wisely or else you will end up with an overcrowded and messy booth.
Below are a few tips that will help you make the most of your product display.
1. Avoid overloading the Trade show exhibit
Though the main goal for exhibiting is showing off your products that don't mean you should bring a sample of every product to the event. Doing so, you might run the risk of a cluttered and uninviting booth that might appear like a yard sale. Instead, you could work upon curating the best-sellers, upcoming product or the ones you know can be the key to your trade show success.
2. Have Product Demonstrations at your booth
An engaging and honest product demonstration is an effective way to stop traffic at your booth and feat a lasting impression. After all, the best way to show off your product line is by showing them in action at your trade show exhibit.
Conducting active demo sessions can in a way engage your audience and pique interest in your products. A short and convincing product demonstration can work like magic for your product sales.
3. Tell Your Product Story
Support your product with eye-catching graphics that highlight the benefits of using your products. Tell their story with interesting graphics in an engaging way that will help you make a sale. You can have graphics with product features and functions and what makes them unique to catch attendee's attention.
However, make sure that your product display does not block the hide the brand message on your graphics. This could be avoided with proper communication with your trade show exhibit contractor.
4. Customize the display based on Product's Size 
While creating a product display, it is important to take size into account as it can make a huge difference. Products that are large will look great when arranged in small groups or alone and since it is huge you cannot put them on stand so place them next to graphic wall or kiosk.
You could also have hanging signs to attract attention to the product. Small products can be mounted to boost visibility. Amplify their benefits at your trade show exhibit with demos, graphics or you can also use A/V displays to feature them.
5. Use Lighting to Highlight your Products

Just like there is a spotlight on the stage, your product line deserves the spotlight too. Use lighting to highlight them and grab the attention of the passerby. If you want to have the spotlighting effect then make use of single-color lights.
Generally, white works well to highlight but you can also choose the color associated with your brand. Another effective solution is to use LED displays to emphasize products and their information. Make sure the lighting is done right as you don't want to have a shadow over your product or miss out on them in the dark.
Trade shows are filled with businesses or brands that strive for attention and visitors who are being attracted to every other brand. In such a scenario, engaging product displays can work wonders in bringing success to your trade show exhibit.
You just need to think out of the box and go the extra mile to communicate what your product is and why should people buy it from you. Providing such a vivid experience would help in pulling traffic and generating leads.