8 Creative Ideas To Regenerate your Next Trade Show Display
Competition in trade shows is particularly intense, with the biggest brands and companies in the Fortune 500 ranking investing heavily in marketing actions, such as trade shows.
Multiple exhibitors present their latest products there, redoubling their creative ideas to make their booth even more attractive. Competition is therefore fierce, especially during trade shows.
As an exhibitor, if you don't refine your trade show strategy with an attractive marketing plan and attractive trade show display ideas, your competitors will certainly trump you. In general, the more attractive and impressive your booth display, the more likely it is to attract visitors. Exhibitors from around the world make sure to spend their money wisely.
This is why they are investing in digital and technological innovations that attract the public to their booth. For this purpose, well-established brands and companies call on qualified trade show booth designers, who develop creative ideas and attractive professional booth designs.
Exhibitors are often overwhelmed by the options available and are unsure which design is best suited to their needs. The best solution is then to combine the brand identity with creative booth designs.
Here you will find some activities and ideas to make your trade show display even more impressive and to keep visitors engaged on the booth longer. Before participating in your next show, make sure you consider these creative trade show display ideas, which will help you in making an impression at your next trade show.
1. Increase Brand Visibility with Logos

The best exhibitors use logos developed in the design of their booths, in order to highlight their brand. Some even have an attractive and truly creative presentation. Creative graphics and displays add a new dimension to the basic design of a trade show booth. It marks the mind of the visitor and thus ensures the visibility of the brand during the event.
For example, you can hang a banner using a trellis system. This will improve your visibility while giving you a real advantage over your competitors.
2. Make use of Digital Technology

By using the latest technologies and innovations, you will easily put your brand in the spotlight. In this way, your trade show booth seems instantly more "connected" and credible. This lively and dynamic aspect will also attract young people. Trade show booths use many advanced technologies (touch screens, DFI technology, virtual reality, etc.).
For example, install a central tower with several screens synchronized with each other. To attract the attention of passers-by, you can also communicate with a large flat screen, broadcasting a commercial presentation in a loop. Another option is to have interactive kiosks allowing you to discover your products and / or services. Some companies even offer a real-time experience to their audience, using augmented reality or virtual reality. In addition, the use of tablets in trade shows has increased sharply, and we note that two-thirds of exhibitors use them on their modular booth.
3. Make the Most out of your Booth space

The secret to attracting your audience is to use the available space wisely. If you have a large booth for trade shows, it is wise to invest so that it is as complete as possible. It is noted that visitors prefer booths in which it is easy to circulate, with an alley leading to the main area. Ideally, your display booth should contain the products on display, information points and presentation spaces.
You can also ask your booth designer to provide a separate space for your private meetings. You can chat with your prospects in complete privacy, without being interrupted. In addition, also arrange a lounge area: ideal for your visitors to relax and refresh during the event! Some companies even offer drinks and cookies, which easily attract visitors to your trade show display.
4. Use Large Screens to Attract Attention
Popular and iconic brands must find ways to attract audiences while respecting their theme. Indeed, moving away from the predefined theme or the marketing campaign can quickly be counterproductive. A creative idea is to use projectors and screens to broadcast Polaroid photos framed with the brand's iconic graphics. Install your device in the lounge area of ​​your trade show booth: visitors can sit there and relax while contemplating your photos.
5. Add a Professional, Personal Touch
A few years ago, the National Automobile Dealers Association, set up a visually pleasing booth. Visitors were greeted at a reception and then directed to a lounge area with a DJ and a bar. This convention booth display also included a conference room equipped with product demonstration stations.
Such professional booth designs have a stronger impact on the public than traditional designs. Depending on the theme of your exhibit display, you can work on your design to make it more original and user-friendly. If you work in vertical farming, you can, for example, have shelves with potted plants, which will make your brand more alive.
6. Organize Activities to Engage Visitors on your Booth
Entertainment and games are probably the easiest, cheapest and most efficient way to attract the public to your trade show display. A crowded exhibit tends to attract public attention. Therefore, activities to involve visitors will help you achieve two objectives: draw more attention to your display, and build a relationship with your customers.
By engaging your visitors with games, prizes to be won and sweepstakes, you too will provide them with positive memories. In the long run, such activities will help the public to remember your brand.
Here is a list of popular activities to engage visitors. Remember to include them in your display booth!
Games and competitions: Organizing games and competitions at your booth is a fun way to attract crowds.
Photobooths: Installing a photo booth on your display exhibit will help you generate a lot of traffic. Nowadays, people love taking photos and sharing them on social media.
To offer gifts: Distributing promotional products for free is the best way to promote your brand at an event. It also helps people remember your brand. Just be sure to offer gifts of sufficient value that can be used every day.
7. Let Lights do the Magic
Lighting plays an essential role in trade shows: it contributes to the success of your booth design and can be incredibly powerful. Light influences mood and stimulates curiosity.
Depending on your needs, use lighting to enhance your brand and your marketing message. To create a fun atmosphere, install sound-sensitive lighting, which interacts with visitors to the booth exhibit. Also, remember to bring extra bulbs and extension cords to avoid hassle at the trade show site. With a good lighting system, you will be able to sell your products more efficiently.
8. Stand Out with the Right Floor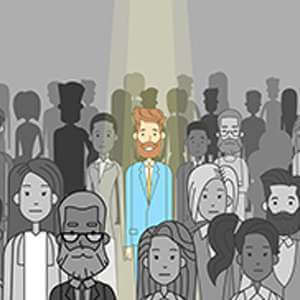 Generally, the floor is the largest area of ​​your booth. So make sure you use it effectively! To give you an added advantage, start by raising the floor slightly.
Then custom flooring is trendy; exhibitors particularly dare printed floors for their trade show booth. The digitally printed floor is widely used because it is easy to install and transport. In addition, you can customize your floor with a wide variety of textures, colors, types of wood … and even with your own image. This custom coating largely surpasses traditional carpet, offering an elegant look to your convention booth. The main advantage of vinyl flooring is their durability; you can, therefore, use them for many events.
We hope that this article will give you creative ideas for the design of your future booth display and that it will help you attract more visitors to your next trade show.