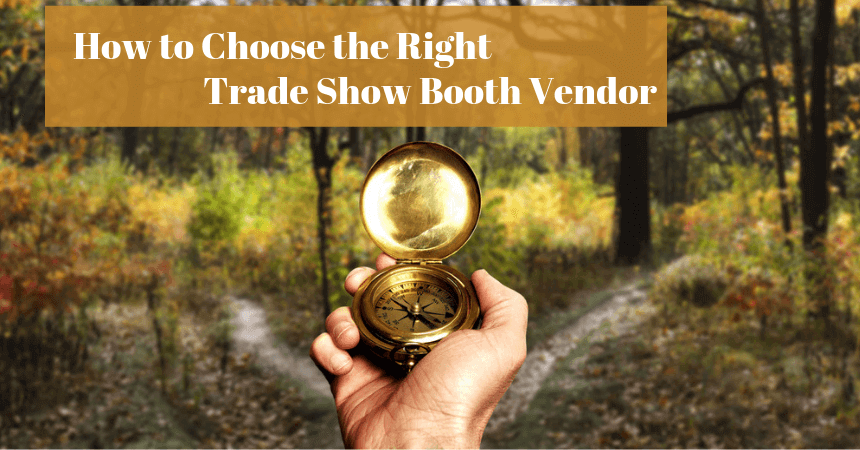 How to Choose the Right Trade Show Booth Vendor
How to Choose the Right Trade Show Booth Vendor
There can be a lot of guesswork and blind faith with some trade show booth vendors. How often have you outlined what you want in a booth, only for it to look completely different when it arrives? How often is it more expensive than you thought it would be?!
1. Consider the Design
You have a vision for your booth going into a trade show, but not all vendors can make that vision a reality. You shouldn't have to cut elements out of your design because a vendor can't make your design a reality.
Additionally, a vendor that assists you in not only executing on your vision but also in designing that vision can be extremely beneficial. Someone who is an expert in trade show booth design is good to have on your side.
They've seen what's worked, what's possible and what sounds like a good idea, but might not truly be one in practice. Like a hairstylist who will gently guide you away from the idea of cutting bangs into your hair, you might benefit from a booth expert who knows what's innovative and what's over the boundaries of reality.
2. Consider the Experience
Think through how smoothly you want the trade show experience to run. Are you traveling from far away? How many people do you need to organize, house and get ready for the trade show floor? All the moving pieces can quickly become too much to handle — especially if your booth has extravagant moving parts.
A trade show booth vendor who will handle booth construction and deconstruction might seem like an extra need or cost until you find yourself stressfully trying to assemble your design and it isn't looking how you remembered.
Likewise, when all is said and done and the trade show is over, you don't want to be left cleaning up your booth, returning parts to various vendors. A vendor who can remove this worry from your plate will allow you to get back to the office more quickly, so you can follow up with all your visitors and close more deals.
3. Consider the Price
Don't you just hate when trade show booth rental companies promise one thing and deliver something totally different? When it comes to booths — you get what you pay for — but you don't want to pay for something you thought would be apples and have it turn out to be oranges.
You want to have options when you're considering who to work with. You want a vendor who's prices work within your budget, but that will also deliver nothing less than perfection at your trade show.
A vendor who lets you pre-test your booth before the big day understands the importance of getting your money's worth on the trade show floor.
The Bottom Line
The bottom line in choosing a trade show booth vendor is all about evaluating what you want out of your trade show experience. There are already so many variables to mastering trade shows and expos, such as booth location, qualifying visitors and then converting them into sales leads.
A trade show booth vendor that masters the entire scope of the project will remove any headaches from disparate vendors, construction and deconstruction. Your booth is the backdrop and the representation of your brand, so ultimately you need to trust the vendor you choose to work with to deliver for you and your business.