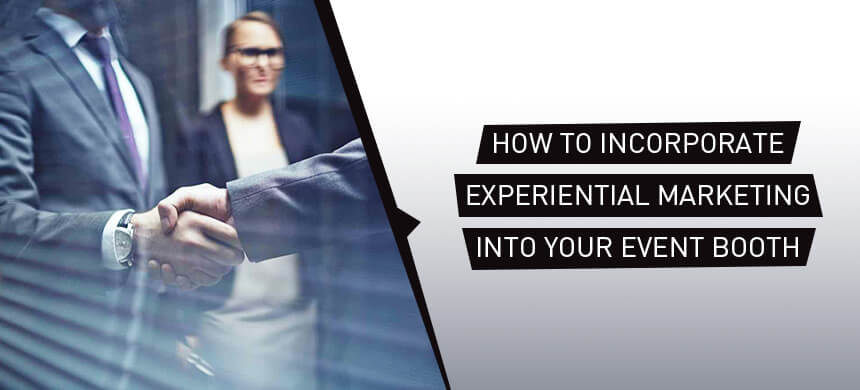 How to Incorporate Experiential Marketing Into Your Event Booth
How to Incorporate Experiential Marketing Into Your Event Booth
For a marketing executive, business owner, or industry superfan, there are few events more exciting than a big trade show or expo. For followers of a certain trade, it's an invaluable opportunity to learn more about the world of their field, rub shoulders with important professionals, and learn about new facets and products from their industry.
For marketing execs and business owners, it presents the chance to generate leads, make connections, inspire new ideas, close successful deals, and increase brand awareness. In recent years, many world-class brands and companies have been spicing up their trade show displays by incorporating experiential marketing into their event booth.
These are the shop-stopping displays and booths that immerses the consumer into the world of their company and lets them experience the brand first hand. These tend to display that people will remember for weeks or even months after the show has ended.
Experiential marketing, or engagement marketing, is a great way to spread the gospel of your brand without making the consumer feel overly pitched or sold to. Instead, they are able to learn about your mission by interacting with an aspect of your brand, whether that's a physical product or a unique experience.
In the scope of a trade show, there are unlimited options for utilizing this method. An expo or a trade show is a great chance to let your creative and marketing teams strut their stuff and come up with some stellar experiences for prospects and clients. (It also never hurts to let a professional help you make your vision a reality.) From there, you can enjoy an enhanced trade show experience with positive feedback—happy and engaged prospects tends to mean more leads and converts!
If you're looking to add some pizzazz to your next trade show or expo, check out this handy list. We've compiled a few of our favorite ways to incorporate experiential marketing into a fantastic event booth.
A Picture's Worth a Thousand Words
If you've glanced at any form of social media over the past decade, you might have noticed that people love photos. They love photos of interesting places, foods, aesthetics—everything. They also love taking photos of themselves.
By installing a photo booth, selfie station, or other platforms for your guests to take pictures, you are doing your brand an enormous favor. First off, you are giving your company the opportunity to conjure up the perfect branded hashtag.
Encourage your customers and prospects to post their selfies and photos on Instagram and other forms of social media, along with your special hashtag. It always helps to offer an incentive, such as a giveaway or discount.
Of course, it's important that your booth has something worth putting on the 'gram. Take care in ensuring that your photo station is designed in order to entice the consumer into your booth. This can involve anything from props and costumes to a one-of-a-kind display.
Out of the Ordinary
No matter what your brand is selling, whether it's a physical product, a service, or an experience, there is always a way to let your prospects experience a fantasy or "funhouse" version of it at a trade show.
For instance, for a physical product, you could let your prospects interact with an outlandishly-sized version of one.
If you provide a service, there are many ways to accomplish this technique. For example, if your company is a luxury cruise line, don't just show your prospects photographs of possible destinations. Take it a step further by creating a luxury cruise experience inside your booth.
Allow them to sample an array of food, let them relax on a recreated "sun deck," or use augmented reality to let your customers take selfies at your destinations. These are only a few examples! Once you start thinking creatively, the possibilities begin to feel endless.
Leaving a Lasting Impression
After a long day of walking around a trade show, expo attendees will likely be experiencing a bit of sensory overload. Once they process the event and everything they saw, they will probably only remember 1-3 brands.
Create a lasting impression by giving your attendees something to hold on to—literally. By giving a useful, branded item to prospects and visitors to your event booth, you are giving them a constant reminder of your company.
For this technique, it helps to give away items that are clearly branded, useful in an everyday sense, and unique. We would definitely recommend keeping whatever item you choose to give away in line with both your brand's image and the design of your booth display.
For instance, a cruise line might want to give away passport holders, sunglasses, or destination guides rather than, say, calculators or cooking supplies.
Charge Forward
A jaunt at a trade show is bound to zap the battery out of any attendee's phone. After all, they spend their entire day exchanging contacts, making notes, and taking photos.
Invite your prospects into your booth for a chance to relax, get comfortable, and recharge their devices. It's a great way to build rapport with your prospective customers, as well as encourage them to stick around your booth for a longer time.
A charging station is a great way to immerse your prospective customer into the world of your brand because you won't be directly pitching to them. Instead, they will be sitting, recharging and relaxing, while they hear you answer questions and speak with clients about your product and mission.
By the time their phone has juice in it, they might just be ready to make a deal with you—or tell their colleagues about your brand.
Reality Bites
As the technology of augmented and virtual reality continue to develop, there are more and more opportunities to use them in marketing.
For trade shows, especially when utilizing experiential marketing, these technologies are invaluable.
We mentioned it earlier, but it bears repeating. Augmented reality has countless uses in the marketing and trade show scope. By utilizing this tech, you can create all kinds of interesting virtual atmospheres—selfie filters, Pokémon GO-like "screens," and fun backgrounds are all made possible with augmented reality.
Of course, virtual reality is another great way to immerse consumers into the world of your brand. This is a great chance to dream big, because a VR headset can make your customers feel like they've traveled anywhere, from Mars to Maui.
You've Got Mail
Whenever possible, try to get contact information from your visitors, especially if they seemed like potential leads. This can be intimidating at times, but it helps to have an incentive for your prospects to give you their email addresses.
It's a good idea to have an enticing giveaway contest or sweepstakes, where visitors to your booth need to submit their email address in order to enter.
After the show, be sure to follow up with everybody who submitted their information, even if they weren't the lucky winners of the competition.
Social Skills
Influencer marketing is one of the hottest ways to build brand recognition and generate leads.
When it comes to trade shows, there is a myriad of opportunities to utilize influencers and endorsers as a part of an experiential marketing campaign.
Whether you hire an influencer already associated with your company, or an exciting new addition to your brand, you have brought aboard a bridge between the consumer and yourself. Your influencer will be able to engage the visitors and prospects in a way that is not only natural and friendly but enticing, too.
Get the Booth-Design Experts Involved
If you want your vision of a beautiful event display to align with reality, it's in your best interest to hire a professional. It will remove the possibility of any hiccups or headaches along the way.
At Exponents, we draw on 30 years of experience and knowledge to help our clients produce the event booths of their dreams. We offer end-to-end development of your trade show display, from design, construction and assembly to dismantling, project management, and on-site supervision.
We take pride in our services and always ensure that our clients are able to create on-brand and innovative displays for trade shows. We offer rentals in every size and with every amenity you need for a perfect event booth.
Get in touch with us today to chat about your needs, so we can help you get started. We can't wait to see what great ideas you have in mind!