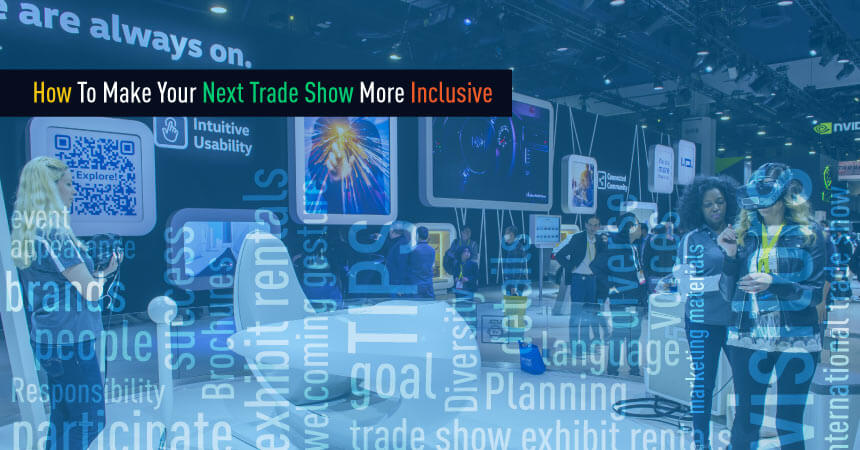 How To Make Your Next Trade Show More Inclusive
How To Make Your Next Trade Show More Inclusive
When you participate at an international trade show, the success of your brand relies upon the connections you make with your attendees. These connections need to be authentic towards your attendees. To achieve that, your trade show exhibit needs to account for the diverse needs and backgrounds of your visitors.
Yet, exhibitors engage in half measures and tokenism, why does this happen?  It's not because visitors are trying to exclude people. It's because exhibitors don't have time left, when they are planning their custom trade show exhibit rental. Since they have to focus on managing their exhibit itself, they end up losing sight on accommodating diverse visitors.
But, diversity can't be ignored, especially for international trade shows. It's crucial for all-round success for any trade show exhibit rentals at trade shows. The first step to put visitors into the state of being receptive is to represent and reflect them. If visitors feel seen and heard, then they are more likely to heed your messages. To make your trade show more inclusive isn't even a risky endeavor. Here are some tips to help you.
1. Aim of inclusion from the start
Diversity and Inclusion is everyone's responsibility. It can't be the responsibility on a single department or treated as a step in a checklist to mark off. It needs to be incorporated right from the start to the end. It needs to be a principle. A principle you apply to your exhibit design, to your marketing materials and to your staff training.
2. Have marketing material in multiple languages
You can stay a step ahead from other brands, but having your brochures, business cards, catalog, and product data sheets in more than one language. Exhibitors often fail to consider translating their content into languages other than English. You can't cover every language at an international trade show but you can cover the major ones.
3. Focus on the little details
A lot of things can slip while planning your exhibit, the little things that can by asking the right questions. For example:
If you plan to have a bar or snacks counter have you considered the diet of your diverse visitors. Some might be strict vegetarians, so you need to consider that.
Likewise, a quick google search is all it takes to know if your event appearance coincides with a major religious holiday
Wheelchair and other disability-friendly spaces should be installed near every trade show exhibit rentals. If the show is not able to provide that then you can make a special request for it
4. Don't judge
Avoid making assumptions about someone's ethnicity, sexual orientation and gender expression. Despite how they might appear, it comes across as inappropriate and you can often get it wrong. Make sure that your staff is also trained to avoid commenting on it. Also, pronouns are important to a person's identity, so getting it right is essential.
For example, for people identify as both you would use the pronoun they/them. For men, it would be he/him and for women she/her. This creates a more welcoming environment for visitors who are part of the LBGTQ community, which depending on your target market will be received as a welcoming gesture.
5. Avoid token gestures
Don't make diversity and inclusion a point to boast about. This will backfire for your brand. Make sure the principle of inclusion for is maintained throughout your event appearance. For example, if you have diverse voices in your trade show staff, then don't make it a talking point. Let your actions speak for itself.
By using these tips you will almost automatically, make your brand feel authentic. You can go one step further and even establish a focus group prior your trade show to expand your perspective and cover every base. We hope that these tips will help you for your goal to be more inclusive.