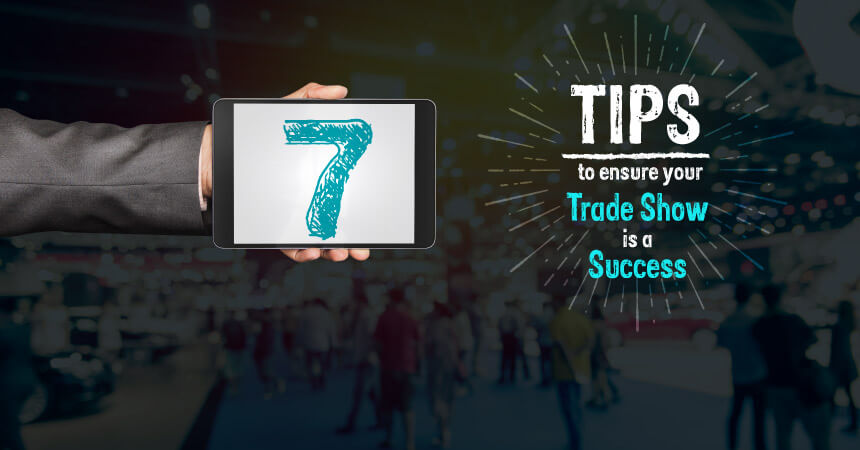 7 Tips to Ensure Your Trade Show is a Success
At trade shows, every exhibitor desires of getting the most out of their trade show booth, but many fail to yield positive results. With a goal-oriented trade show booth and a highly motivated staff, your trade show participation is bound to be successful. This is just easier said than done. Because, what requirements does an effective booth meet? And what should you pay attention to when choosing a booth design and building your next trade show booth?
Effectively setting up your trade show booth is imperative for your show success. In order to be a successful exhibitor, you must have a mix of following things.
But how do you do that? These are 7 indispensable tips to get the most out of your exhibit rental.
1. Successful booth design starts with complete know-how of the show
Exhibiting just like that is a waste of your time, money and energy. Do you want to participate successfully in a trade show? Then start by choosing the right show and visit it at least once before you decide to rent a booth.
For every trade show you participate in, at least know who the visitors are, why they visit the show and what appeals to them. Preferably, while visiting the event, make as many notes as possible that you can refer to. You lose details quickly and a well-filled notebook is worth its weight in gold.
2. Set SMART Goals
You can select a conference booth based on its appearance. That is not very sensible, because it says nothing about its effectiveness. Therefore, first set goals for your ideal trade show booth and participation before you look at the booth design.
Who do you want to reach at the trade show? What do you want to say to them? And in achieving which goals has your participation been successful? Think about these kinds of questions before you rent your next trade show booth.
Preferably formulate your goals SMART. In other words: specific, measurable, achievable and realistic. The more concrete and measurable your goals are, the easier it is to provide insight into the achieved result. So invest time in this.
3. Good booth design immediately appeals to desired visitors
Trade show visitors are impatient and can choose from many trade show displays. Why would they visit your booth? Make sure your trade show booth ideas are unique when it comes to designing and marketing. Moreover, ensure that your booth design optimally matches your most important message and communicates it crystal clear. Less is more. Really focus on the people you want to reach and communicate what is most important to them.
With printed matter and slogans on, for example, a striking presentation wall, you quickly attract attention. Choose bright colors, a short and powerful message and images that really resonate with your target audience.
Your first goal when setting up a conference booth is to make visitors booth still. Make sure the first impression is overwhelming and that they can't ignore you.
4. Set up trade show booth: Choose a clear theme
Many exhibitors want to say too much at a trade show. You don't have that time and you over-stimulate visitors. Therefore, opt for simplicity and focus everything on a quick first contact. A clear theme helps with this.
A thematically structured trade show booth guarantees uniformity and tranquillity. This is pleasant for visitors and prevents ambiguity. In terms of themes, you can connect to an ongoing campaign or the introduction of a new service. But also think of fixed colors or original activities. For example, Red Bull let participants take place in a racing simulator.
5. Don't make your booth too busy
You can equip your conference booth with bells and whistles, but that is rarely useful. Pay particular attention to your goals, the people you want to reach and the story you want to tell. Connect your booth design to this as much as possible.
In the booth, preferably draw attention to the most important product or service. This is your protagonist and you want to draw attention to that. Build your booth around it, with matching materials and lighting.
Also, make sure that your booth has sufficient walking space. Do you want to be able to consult with trade show visitors in peace? Then create a quiet corner with a table and chairs.
Finally, take a critical look at walking directions. Where do visitors enter and leave your booth? Make sure that your products or services stand out in the most important places.
6. Good booth design will keep no one waiting
At a trade show, you have to fight for the attention of visitors. For you 10 others, it's that simple. Therefore make sure that you are there for them and that you can address them directly. An effective booth design makes this easier. But also think of the digital presentation of products or services and the collection of leads.
With handy apps for phones and tablets, you can quickly provide interested visitors with additional information. There are also smart programs to register leads. You immediately save the data in your CRM.
7. Make contacting as easy as possible
People usually need multiple contact moments before taking action. Keep this in mind when decorating your booth, and think of ways to keep in touch with people who aren't 'buying' right away.
Always try to obtain contact information from leads and contact them as soon as possible after the show. In addition, place flyers and brochures at strategic places on your booth for rent. This way you are also visible to people who are still orienting themselves.
The layout of your trade show booth is essential for future success. Therefore invest ample time in learning about the trade show and its visitors. Set measurable goals. And optimally match your rental booth with your message. Then you get a booth that really works for you.