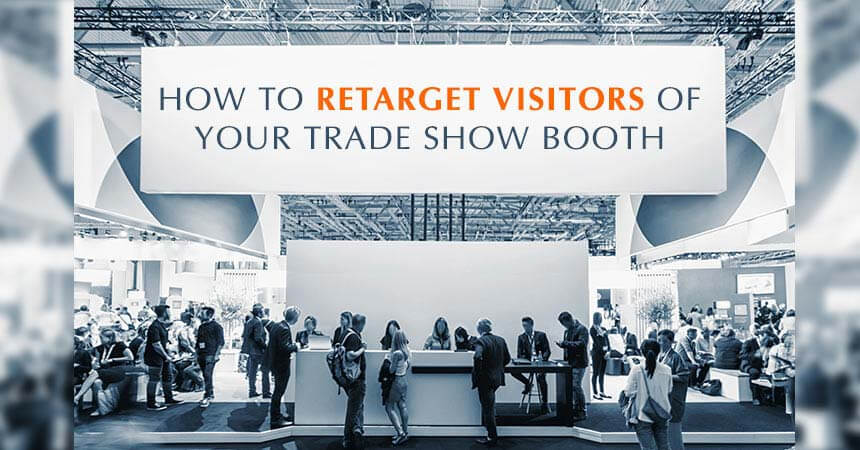 How to Retarget Visitors of Your Trade Show Booth
A trade show is a valuable opportunity to grow your business. Not only is it a chance to network with industry peers and make wholesale connections, stay in the know about innovations in your field, and increase brand awareness, it's also a fantastic way to generate leads. With the help of your shrewd marketing team, these leads can be retargeted into loyal customers.
Grab the Attention of Passersby and Prospects
For a successful trade show experience, you need to get people into your booth, speaking with your staff, and interacting with your brand. You don't need to be flashy or have a complicated strategy to accomplish this—it's more important for your display to be engaging, well-branded, and welcoming. (Though a few bells and whistles can certainly enhance your display!)
Unsure of the best tactic to pull attention away from the competition and towards your display? We have a few simple tips of the trade:
Hire the Best Staff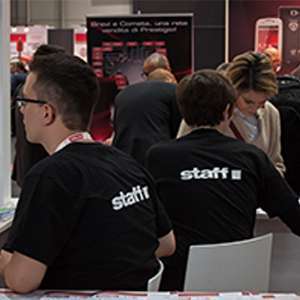 Your event staff is crucial to a successful trade show experience, particularly when it comes to engaging passersby.
Staff should be hired with careful consideration and given extensive training in your mission, branding, and objectives.
When it comes to trade show sales and pitching, your staff has to walk a delicate line. They need to be engaging and welcoming without being pushy or overbearing.
This will come more naturally to staff who are experts on your branding, and passionate about your product.
Think Outside the Booth
Your trade show design and branding starts outside your booth. To draw prospects to your display, it's important to ensure that your booth looks enticing from the outside.
Whether that means including an activity or furniture outside your booth, opting for an open-plan display, or including specialized graphics on your exterior walls, there are plenty of ways to pull in prospects.
An experienced and passionate member of your event staff could even walk around the showgrounds, offering an incentive (prices, discounts, or giveaways) to those who come to visit your display.
Take a Number!
Once you've drawn prospects and passersby to your booth, your job is far from over. This is a crucial moment: it's time to capture your leads. There are plenty of ways to ensure that you have follow-up information on the potential leads who visit your booth:
Create a Giveaway or Contest
This is a classic way to increase brand awareness, capture leads and generate interest around your product.
By entering an email address or phone number into a digital form or dropping a business card into a box, your prospects are giving themselves the chance to win one of your products, receive a discount, or enjoy whatever prize your marketing team has come up with.
After the contest or giveaway has ended, your team can follow up on all the contacts you accrued.
Offer Exclusive Information via Mailing Lists
If your brand is constantly evolving, debuting new products, or often have special offers and sales, you can offer prospects a chance to sign up for your mailing list. This tactic works particularly well if your mailing list features deals, giveaways, or insider information that's exclusive to subscribers.
Take Email Addresses as "Currency"
If your trade show display includes a picture-taking station, selfie booth, or customized photo filter, you have a great opportunity to collect email addresses in exchange for photos. Have a "no photos" policy inside your booth, instead of having your staff take pictures or give prospects a tablet to play with.
The consumers don't need to pay to receive copies of their pictures, they just need to provide an email address for them to be sent. After the event is over, your team can follow up on everyone who asked for a photo.
"There's an App for That!"
There really is, too. When it comes to lead capturing, there are actually quite a few handy apps. We like QuickTapSurvey and CamCard because they are user-friendly, feature helpful technology, and have follow-up tools included.
Utilizing these handy software makes keeping track of leads easy, and gives your staff more time to properly engage with the people who visit your booth.
The Magic Art of Following Up
Once you've collected the information about your leads, it's time to follow up. Of course, there are many ways to go about this. Your follow-up strategy depends on your industry, the size of your company, and your branding and mission.
A few common follow-up strategies are:
Making personal phone calls to promising leads
Working with your teams to create a solid retargeting campaign
Adding leads to electronic and physical mailing lists
Sending a memorable "thanks for visiting" gift or card
Trade show marketing may be a new venture for you, but it's another day at the office for us. With more than 35 years of experience, a warehouse on each coast, and accolades from hundreds of major brands, Exponents is among America's lead trade show companies for a reason. Our knowledgeable staff is ready to assist both expo newbies and veterans with concentrated support.
We offer booth construction and design, specialty graphics production, shipping/dismantle/installation, project management, and on-site supervision. We love trade show culture, and we're here to answer all your questions and help bring your ideal display to life.
Do you have a few ideas in mind for your next trade show? What are you waiting for? Get in touch with our team today and we'll see how we can make your brief into an exciting and well-branded trade show booth.