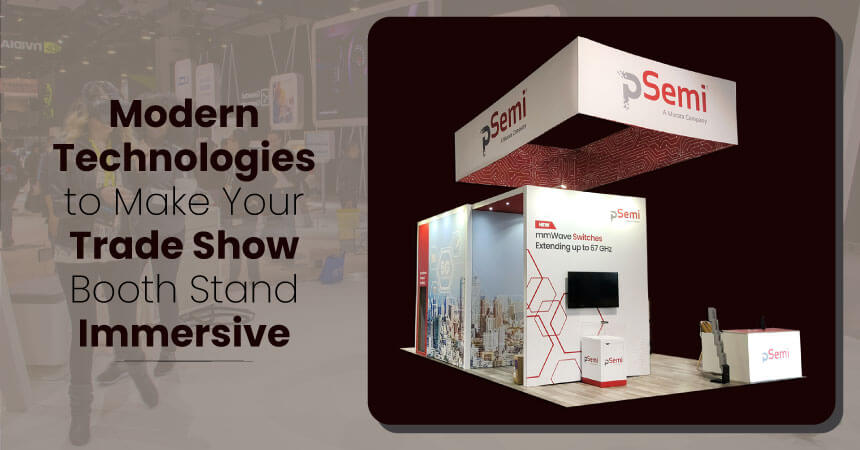 Modern Technologies to Make Your Trade Show Booth Stand Immersive
Modern Technologies To Create An Immersive Trade Show Booth
Exhibiting at any trade show is worth the effort if you get enough visitors. And for that your booth needs to stand out. Take your trade show presence to the next level with interactive technologies and stand out from other exhibitors. Incorporating immersive technology solutions such as virtual reality or augmented reality into your trade show booth rental can give visitors an engaging experience that helps you reach all of those exciting trade show goals! With these innovations, people will be able to explore more about what makes you unique—from products and services, cool graphics on large displays, using bots for conversations – make sure every visitor has a meaningful exchange that leaves them wanting more! Here are some technology solutions and ideas that you can include to make your trade show booth immersive:-
1. Augmented Reality
Augmented Reality has exceptional potential for making trade show content engaging. AR technology has computer-generated graphics that cover the real world and is easily available through mobile applications. Merging virtual graphics with the real world helps show your message to attendees. Including AR in your trade show will undoubtedly get you noticed. You will get more from the booth space that you have at a trade show, and make an impression that will be truly unforgettable.
2. Virtual Reality
Virtual reality provides attendees at a trade show with experiences that evoke genuine emotions. It encourages you to give the visitors a multi-sensory experience that immerses them on a whole new level. Virtual reality allows visitors to start conversations and learn more about your products. Including a VR tech demo in your trade show booth design will enable visitors to interact with your company and understand what you provide them, resulting in an unmatched audience experience.
3. QR Codes
Extend your reach beyond your trade show rental booth by creating content that attendees can access through their phones. Using QR codes can lead to endless possibilities, such as special promotional offers, a link to a digital booth, access to a game, and more. Once attendees see QR codes on any of your collaterals, they are just a scan away from interacting with your company digitally.
4. Touch technology
Using touch technology enhances your audience's experience. Smartphones, interactive screens, and tablets embedded in kiosk workstations are just technologies that trade show booth designers can provide to display your offerings. The options are customized as per your imagination-everything you can load onto a tablet can be loaded onto a kiosk. Play videos, display your catalog and drill down to product details to bring the technological touch to your booth. With touch technology, attendees can interact with your offerings on their terms and have control over their experience.
5. Artificial Intelligence
Artificial Intelligence technology has given an edge to the trade show industry. Using AI in your trade show exhibit design captivates visitors and helps them connect with your brand easily. You can have virtual sales assistants, chat bots or shopping assistants to give visitors an enriching experience. Besides, integrated visitor analysis, automated lead generation, and client feedback are a few applications of artificial intelligence that can help you with lead management and follow ups.
6. Immersive Environments
Immersive environments are changing how we perceive and experience products in the market. Audiences crave for new experiences, and immersive environments are winning the hearts when it comes to audience experiences, especially at trade shows where competition is strong. You can create an immersive environment around your product or service using 3D holograms and high-resolution projectors to take customers on a virtual journey.
7. Digital Display
Trade show booth designers these days provide digital display services for product demonstrations. A digital display uses a mix of technologies like motion-sensing LCD screens and interactive mirror screens. You can tweak a digital display in real-time, which is impossible with a traditional display. You can also change the digital display's graphics, colors, and sound, keeping it dynamic for visitors' engagement.
20'X30′ TRADE SHOW BOOTH RENTAL AT AAPEX 2022, LAS VEGAS, NV
8. Motion-controlled technology
The possibilities are endless with motion-controlled technology. You can have a product demonstration at your trade show rental booth with a motion-controlled interface where attendees can flick their hands to start and stop the demo. You can also set up motion-controlled technology with a motion-sensitive floor to provide a fully immersive experience to the booth visitors.
9. Charging Stations
Although smartphones are essential to modern life, their batteries do not last long. That is why having a charging station at your booth rental can pull more visitors at your booth. Even those not interested in your product/services can look around and get more information about your company. Better yet, they can change their mind while waiting for their phones to charge. A comfortable spot and rich content can help spread the word about your brand. And it can be an excellent way to promote your company as you can showcase your products or services and capture the minds easily.
Browse through our portfolio to find your perfect booth!
10. Beacon Technology
Beacon Technology will help you connect to your prospective customers at your booth rental's proximity. You can send a message to their device to welcome them to your booth and inform them about the things around it.  Through beacon technology, you can also share your company's collateral, like a flyer or a brochure. Beacons are powered via Bluetooth or near-field communications (NFC).  Using this technology makes you tech-savvy and results in visitors receiving your company collateral without maintaining any files.
11. Gamification
Gamification is the art of utilizing game elements to boost engagement and participation. It is popular at trade shows, and for a good reason: Games can be a valuable way to attract visitors to your trade show rental booth, collect their contact information, and incentivize their attendance. Games involving mobile devices make it easy for visitors to upload videos and photos of your exhibit to their social media accounts. It provides an easy way to spread awareness about your company to an audience outside the trade show venue.
To Conclude:
Give your trade show booth an immersive boost with the latest technologies! You need only to reach out to us at Exponents leaders in creating impactful and memorable experiences at expositions. With over four decades of expertise, we will provide you tailored solutions to meet your trade show needs — just fill up the form as given below for more information on how your business can shine brighter than ever before!
Fill out the form below to speak with someone from our team.