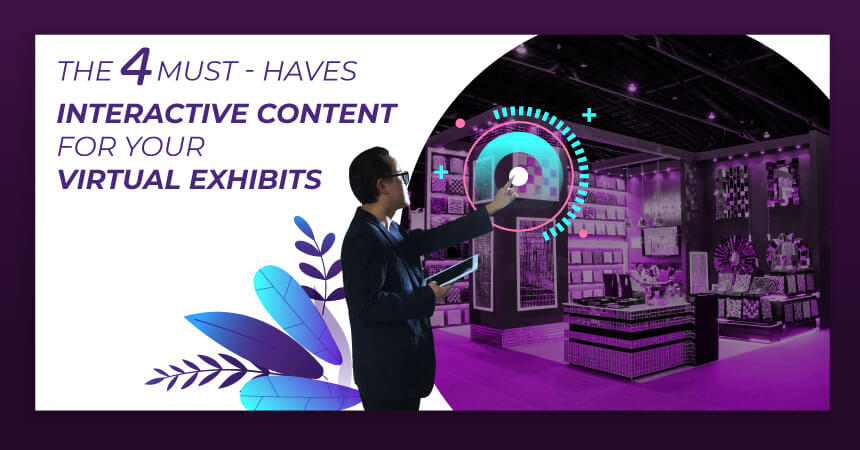 The 4 Must-haves interactive content for your virtual exhibits
The 4 Must-Haves Interactive Content for your Virtual Exhibits
Given the current market condition where businesses are adapting to new technologies to grab in customers' attention, close more sales, and cut down on unnecessary expenditures, virtual exhibits are have gained momentum. With almost everyone who is hesitant to host a real-time trade show or physical events or conferences are opting for virtual events. And hence if you have decided to host a virtual exhibition for your customers it is utterly important for you to stand out.
Here, in this post, we are going to tell you the must-haves widgets that you need to integrate into your virtual exhibit to provide your visitors with an immersive 3D experience that is not only seamless but also engaging.
Webcast or Live video stream
Live streaming or webcasting is broadcasting over the web that brings audio and video of real-time events to audiences who aren't physically present at the show.  It is a great way to reach out to a global audience without the barrier of physical location.
You can incorporate live streaming in your virtual booth for events like –
service promotions
product launches
performances for entertainment
automation of huge machinery, and so on
Video conference
Video chats allow exhibitors to talk to their visitors in person over the internet. It gives your virtual booth visitors the same feel as if they were with you at a real physical booth. Video conference is one of the best ways to make your attendees feel welcomed at your virtual show as it delivers more structured and better communication.
Guided walkthrough
Imagine you have a visitor who can't explore the booth, the products, cant flip through flyers, wouldn't that be boring? Well, that is how your virtual event will look like if you skip adding a guided booth tour or walkthrough. Walkthroughs are important, that lets your visitors see what you have in store for them, like –
Products stations
Inquiry Desk
Brochures
AV screen that runs product demos or presentations
And the décor too!
On-demand or recorded presentations
On-demand videos or presentations are equally important as live streaming because it reduces the chance of your presentation not being watched by your visitors who couldn't attend the live streaming on time. It lets the visitors watch a presentation at their convenience, comfort, and pace. It is always a good idea to keep recorded presentations available for your visitors to look at whenever they want to.
At the same time, while you incorporate these applications into your virtual shows to stand out from the other virtual events, it is important to remember that virtual events should be of appropriate duration and with break sessions. With so many disturbances around us at home or office, virtual attention spans would be shorter than they might have been in person.