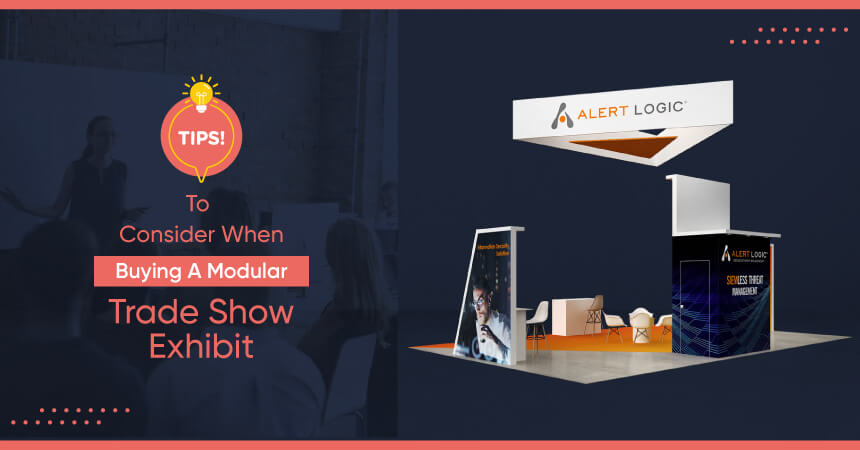 Tips To Consider When Buying A Modular Trade Show Exhibit
Tips To Consider When Buying A Modular Trade Show Exhibit
Torn between custom and modular exhibit types? We can help you decide.
Here are at Exponents, we have built dozens of modular and custom exhibits for our clients. So, they often rely on us to help them choose. In this blog post, we aim to share this knowledge with you, so that you can make an informed decision. So here are our tips to guide you towards your idealized outcome, when you choose to buy a modular exhibit.
1) Question to consider before you buy?
How often do you participate at trade shows or is this a one-off event?
A: If you don't participate often or are looking to get your feet wet. Then we'd suggest you to rent a modular trade show exhibit. Your exhibit booth design will still be unique to your brand. And, you'll reduce your expenses.
Does your marketing plan require exhibit participation?
To get the most ROI out of your marketing budget is the objective.  Is exhibit participation a critical component of your plan? If your audience is more active at exhibitions than it makes sense to buy your trade show exhibit. Custom trade show exhibits give your exhibit a unique structure and a consistent look across shows. Custom modular exhibits on the other hand, are useful if you want to change the look of your brand at each show or need to travel long distances between shows, and want a compact solution.
2) The effect of location
The location or show affects your exhibit booth design. If it's a popular trade show, than you can expect a lot of visitors and exhibitors. In such a scenario, you'll likely need to invest in a larger booth with exceptional banners and signs. That's why you'll often see custom trade show exhibits by companies that can spare the budget. That isn't the issue at trade shows that provide entry to industry insiders or cater to a specialized niche.
The problem that comes with custom exhibits, is at later trade shows. Your customs booth will be tailored to a specific layout. This means that you'll have to choose a venue that supports that layout, or you'll need to create a new exhibit. On the other hand, modular systems are expandable, so if you planned to participate at multiple shows, you can make adjustments, to your existing exhibit.
3) The cost of assembly
The cost of assembly is also something that must be taken into account during purchase. For custom exhibits, the assembly has to be carried out by an exhibit builder. This is because custom exhibits have parts that need to drill or screwed in. This adds to your budget. However, custom modular exhibits can be assembled without tools or professional expertise.
The individual exhibit walls are set up with an easy-click system, then the graphical prints are fitted onto the wall using magnets. With modular exhibits, the assemble and dismantle can be carried out by your own employees. So if these costs are something you want to avoid, than a modular exhibit is a better option.
4) Sustainability
Modular exhibits are made out of sustainable materials, they are designed to reuse for multiple shows. In contrast to that, custom trade show exhibits are made from materials such as wood.  They have immovable parts that are difficult to manage take apart and transport. That's the reason custom exhibits are called build and burn exhibits. This makes custom trade show exhibits an environmentally friendly option.
So there you have it, our tips to consider when you choose to buy a modular trade show exhibit.