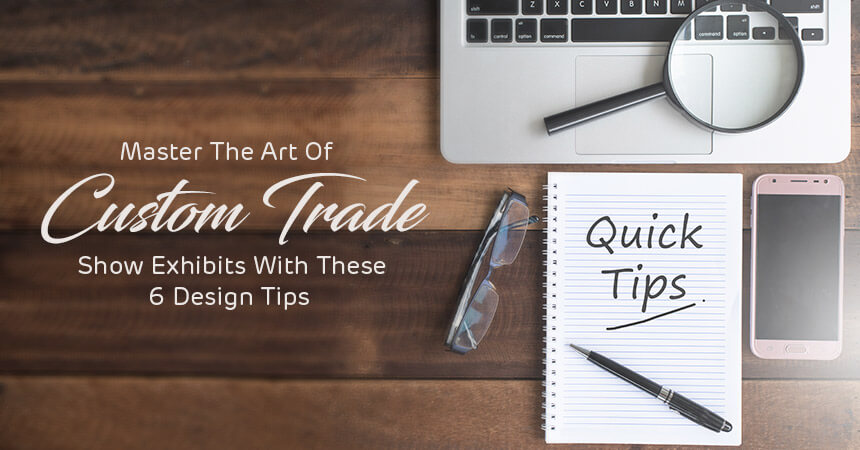 Master The Art Of Custom Trade Show Exhibits With These 6 Design Tips
Master The Art Of Custom Trade Show Exhibits With These 6 Design Tips
No other form of face to face interaction holds as much influence as participating in trade shows. The immense impact ensures that you generate a high volume of leads in the 2-4 days of the duration of the trade show. The thousands of visitors attending these events propel your sales funnel with targeted prospects entering the trade show stall.
However, what is the one factor that prompts them to pay attention to your product and services and ignore others? It is the custom trade show exhibit design. A riveting stall design is what makes the visitor stop in his/ her tracks and ensures that your brand receives the full attention of the visitor.
To get this competitive advantage it is important to select a trade show booth designer who can provide you with a range of design and integrate your corporate branding on it for a memorable experience.
Here are some vital tips to get the best custom trade show exhibit
Design in sync with branding
Every organization tries to portray a distinct and unique brand perception in front of its target audience. When picking a good design in custom trade show rental booth, it is essential to take this factor in to consideration.
Imagine if your branding's primary colors are red and grey and the stall is designed totally in green and orange? There will be an instant disconnect with the brand image of the company.
It is important that the corporate texture and outlook syncs with your overall brand image so that there is no confusion in the visitors' minds.
Tip#1
One interesting way to accomplish this objective is by opting for a fresh design every year. When your brand participates in an exhibition in a recurring manner, it is very likely that it may see many of the same visitors who had visited the venue last year. As such, they are bound to make a comparison of your trade show exhibit stall with the previous years' design.
If you are a recurring participant at an event or in a city over a length of time, visitors are likely to remember your trade show booth designs from previous years and compare. The visitors get a chance to discuss and compare the designs.
Another plus point is that they see positive progress going on with the brand by comparing design aspects. This helps cement the level of trust in the brand. This too ensures a better likelihood of engagement and conversion.
Innovation at the Heart of Corporate Culture
Don't be afraid to innovate as far as designs for custom trade show exhibits go. It is not a surprise that they will relate the design of the stall with your corporate philosophy. So a brand that carried out innovative measures in design is likely to be perceived as a forward-looking brand that is not afraid to think bold and act innovatively.
Tip#2
In order to showcase this intent of the company to innovate at all times, your design should be fresh and innovative. Hence it will be a smart move to look forward to innovative design at your custom trade show booth building process.
It is wise to bring on-board a strategic partner that can help you with radical design ideas as well as carry out high-quality production. These will help the booth to initiate a discussion with the visitors, attract their attention, and help communicate with the visitors. With this tip, you will let the graphics do the talking and your brand will profit from it.
 Smart Color Coding
Many companies believe is subtle color-coding that doesn't radiate brilliance or flashy communication. They opt for two to three combination of colors to ensure that there is no cluttering of the hues and shades, which may be counterproductive in attracting audience attention and improving the volume of footfall to the booth premises.
Remember that the color coding used in your trade show exhibits determines your brand recall by visitors. If they see a different color coding than what you typically advertise, they will not be able to make a connection that the stall is for your particular brand.
As a result, the overall user experience will be poor on account of poor design choices. Think new but do not diverge from the standard color coding and brand graphics that you use across different touchpoints in your marketing function.
Tip#3
Avoid tinkering too much with the color-coding. The combination of logo and color is a strong visual identity for your brand. It is imperative that it meets the expectations of the visitor.
Hence the colors should be kept consistent across all marketing events, with all marketing assets and materials. This way, they will be able to make a connection of the booth with your brand and generate favorable brand recall.
 Use of Technology
Modern-day visitors are well-acquainted with technological advancements happening all around them. And they expect the trade show booth to integrate technology as well.
It is not surprising that many companies are recognizing this benefit and are taking steps to inculcate immersive technologies into their custom trade show exhibit design.
Tip#4
Check with the booth builder if he can integrate immersive technologies that add to visitor experiences and augments visitor engagement. The use of interactive touch screens and kiosks inside the stall are fast emerging as effective customer engagement avenues.
They also help retain visitor attention in case your staff is busy catering to other prospects. Ask for platforms to deploy a life-size screen for product demonstration, a touch screen wall to run videos and share content with visitors in new and unassuming ways.
Leverage panoramic vision to showcase photographs of your offerings. This is especially useful in verticals like an automobile, real estate, sports, travel and tourism, hospitality, etc.
Such initiatives will go a long way in attracting visitor attention and promoting them to step into the booth. Once they are inside the booth, these interactive technologies will ensure that they are kept riveted during the product demonstration with a two-way communication process.
Interior design matters a lot
Brands usually get limited real estate (either 10×10 stalls or 20×20 booths) to make a distinct first impression. Smart design in a custom trade show booth will ensure that every sq. inch of the real estate is utilized to the maximum and in sync with the customer journey.
So an exhibitor needs to factor in not only what is being placed inside the stall, but also how it is being placed, in order to attract maximum engagement and conversion potential from the audience.
Tip#5
Engage with the designer and builder of your trade show exhibit rentals and ask for the following compartments:
Reception/front desk area
Demonstration Area
Meeting Area
Forum Area
It makes sense to have dedicated spaces for one-on-one interaction away from the hustle and bustle, to close engagements that have reached the conversion stage. This will help you negotiate with the customer and arrive at a win-win deal
Many companies also play around with the lighting to create distinct hues in designated areas of the booth. This way, visitors can easily recognize the purpose of each area inside the trade show booth.
Ensure adequate furniture
With the limited space available for a trade show booth, it is important to get the balance right in keeping adequate furniture and not cluttering the space at the same time. The presence of furniture at strategic positions will ensure total comfort to the visitor and heighten the likelihood of positive conversations that can lead to conversions.
Tip#6
Every space inside the booth will require the right type of furniture to be placed depending on the purpose for which space is being used
For example, the table and chairs for the demo area must be different from those in the meeting area. For the forum area, go with box chairs that make for quick mobility for press briefings, discussions, media bytes, etc.
Ask your custom trade show exhibit designer to factor in these points as a part of the initial briefing, so that you can set the right expectations.
To sign off
These were some of the tips that can help you utilize the design in the right way when preparing a custom trade show exhibit for your next exhibition or trade show. Don't hesitate to customize.
Look forward to differentiating your trade show exhibits on the floor of the trade show in order to grab the attention of visitors. This will help you showcase how your brand is different from competitors.