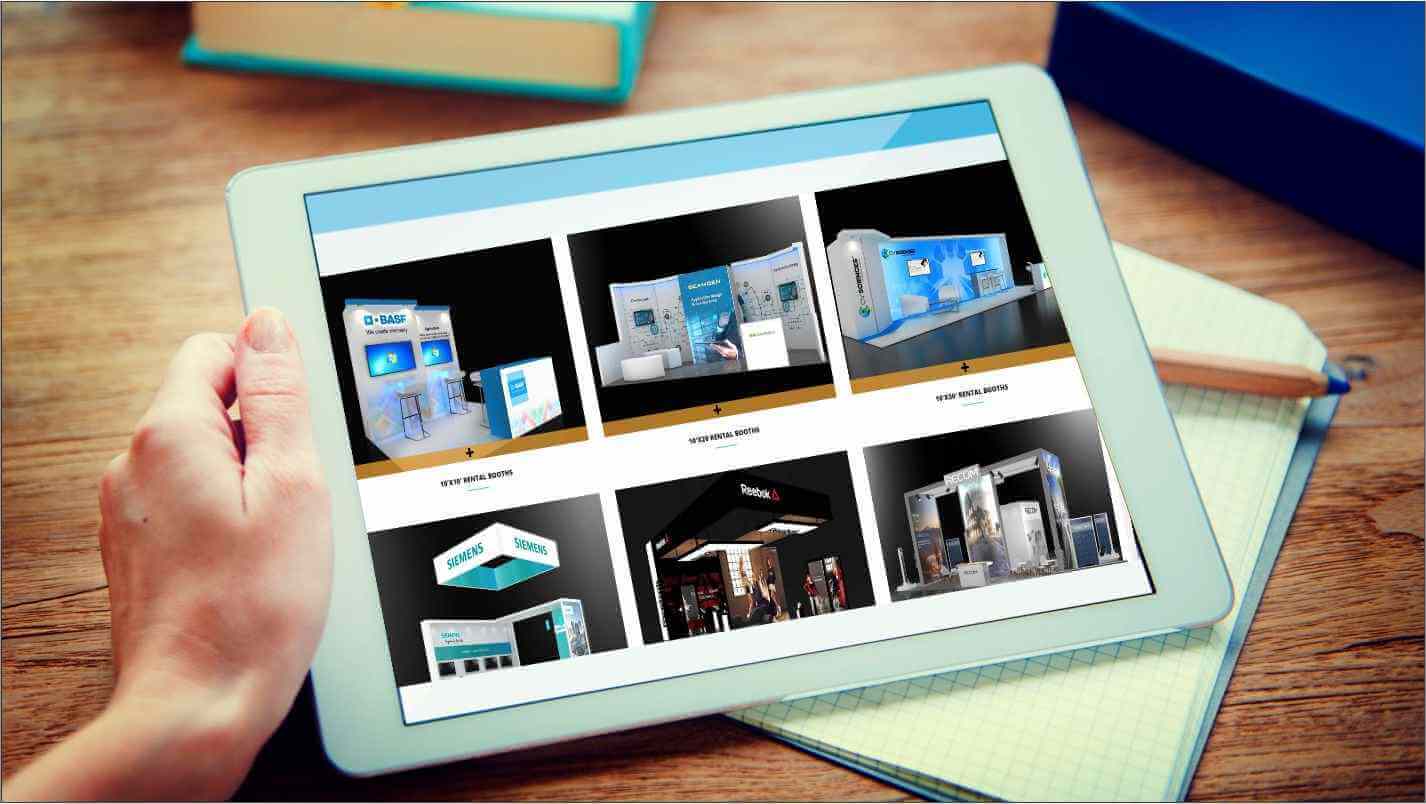 Trade Show Booth Design Secrets: How To Use Your Design
Trade Show Booth Design Secrets: How To Use Your Design
In the crowded, busy environment of a trade show, first impressions matter. The design of your trade show booth plays a huge role in determining your success, from encouraging attendees to enter and speak to your sales staff to creating a visual "theme" for your business.
From typefaces and colors to furniture, layout and more, a variety of factors can all affect your trade show booth's performance. In this guide, we'll focus on the design side of the equation — the aesthetic factors that go into a successful, profitable trade show presence.
From simple tips to advanced tactics, the recommendations we've shared below can help you stand out, attract attention and generate real results from your next trade show or event.
Design around the "three-second rule"
The first secret of trade show booth design is to design your exhibit around the "three-second rule" — an assumption that trade show attendees will spend about three seconds looking at your booth before deciding whether or not to enter.
The three-second rule should influence every element of your banner and trade show booth, from the text you use in your headings (shorter and easier to read tends to be better) to the images, you choose to add to your banners.
It also plays a role in the design of your digital signage, product demo areas and other visual elements of your booth. In short, if it takes longer than three seconds for someone to read or "get" a certain aspect of your design, it probably needs to be revised and simplified.
Use flooring to your advantage
Does your booth have an "open" design, with space for attendees to sit down, relax and chat to your sales team? If so, the flooring material you choose for your booth can have a surprisingly big effect on your results.
While it might sound unnecessary, choosing a premium flooring material (such as a comfortable rug or wooden flooring) can add an extra visual element to your booth, all while feeling far more comfortable than the standard commercial carpeting used in most exhibition halls.
Unique flooring also sets your exhibit apart from the crowd, creating a more individual space for your team to operate in. Add the premium look it provides into the equation and the small cost of custom flooring is often worth incorporating into your exhibit budget.
Give attendees a place to relax
From sore arches to blisters, back pain, tired muscles and more, walking around an exhibition hall or convention center for hours on end can be a tiring, painful process.
Luckily, you can use this to your advantage as an exhibitor by creating a relaxing, comfortable space for attendees. From sofas to recliners, bar stools and more, adding a small amount of comfortable furniture to your booth can often help you draw in a huge amount of foot traffic.
Combine comfortable seating with a product demo or presentation and you'll be surprised by how little effort it takes to convert tired attendees searching for comfort into motivated leads, prospects, and customers.
Don't forget great storage
There are two sides to every trade show booth. First, there's the aesthetic side — the bright and bold displays that customers and attendees see. Second, there's the logistical side — the boxes, shelves and storage compartments used to keep your exhibit running smoothly.
From a design perspective, it's important not to neglect the second part of the equation. Storage boxes (for brochures, giveaway items, and products), shelving and other less-than-obvious parts all play a major role in keeping your booth chaos-free and effective.
As tempting as it can be to ignore storage in favor of a more visually striking booth, doing so can often hurt your results from a trade show. Instead, incorporate storage into your booth right from the start of your process to keep your team organized and your booth as efficient as possible.
Use portable displays to adapt on the spot
Finally, it's important for your tradeshow displays to be adaptable. If you notice that most of your visitors are approaching from a certain direction, being able to adjust your booth for improved visibility is a major advantage.
The easiest way to achieve this is through the use of portable displays — small, easily adjustable trade show displays that you can pick up, adjust and point in a specific direction without bringing out the assembly toolkit.
Portable displays are also easy to relocate within your booth, letting you free up floor space as it's required for product demonstrations, presentations, chatting with new prospects and other important events.