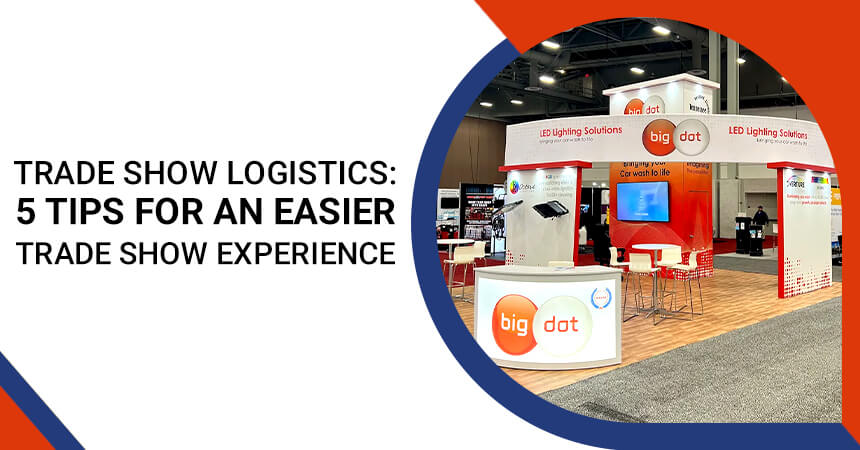 Trade Show Logistics: 5 Tips for an Easier Trade Show Experience
Trade Show Logistics: 5 Tips for an Easier Trade Show Experience
Logistics is one of the most important aspects of exhibiting at a trade show. It's also one of the most challenging, particularly for new businesses taking part in a trade show or other industry event for the first time.
From comparing shipping rates to making sure you're compliant with the event directions, there are numerous steps in the logistical process of preparing for a trade show. Miss one step, make a relatively minor mistake or skip over a small detail and it's easy to create a stressful situation.
Luckily, with the right approach, trade show logistics aren't as difficult as you might think. Below, we've shared five tips that you can implement for an easier, less stressful logistics process and a smoother, more effective presence at any trade show.
Before you plan anything, check the event's directions
Trade show organizers provide specific directions for exhibitors, covering everything from where to store your pre-made booth to how you should pack your equipment.
When you register to exhibit at any event, reach out to the organizers as early as possible to ask for the event's logistical directions. The event organizer should be able to send you a guide that explains where to ship your booth and how to prepare it for the event.
The earlier you can get these directions, the easier it is to plan out your logistics and prepare for the show ahead of time.
Most of the time, you'll need to ship your booth several weeks before the show. The organizer should provide you with full shipping information, including the schedule of the warehouse that stores booths and other event equipment.
Before you ship your booth and other equipment, it's worth reaching out to the event organizer to double check all of the details. This way, you'll be able to ship your exhibit and other essential equipment with full confidence that it will arrive on time and in the right location.
Label everything, from containers to specific items
Before the event, your exhibit and other equipment will most likely be stored in a warehouse with hundreds of other shipped and labeled exhibits from other companies and organizations.
Label your equipment thoroughly and there are almost zero risks of getting mixed up with other items or going missing. Forget to label even the smallest item and there's a serious risk that your trade show essentials may not be as easy to find as you might expect.
Before you store your exhibit and other items in a container, label, and number each specific item so that your pre-show assembly process is straightforward and simple. This also makes taking inventory an easier, less stressful process.
It's also important to label your shipping containers with your company's name, the specific show you're attending (as the warehouse might house items for multiple events) and your exhibitor information to make sure your items end up in the right location at the event.
In general, when in doubt, label it. The more you use labels to identify your items and shipping containers, the easier it is to account for and configure your exhibit in the days leading up to the event.
Shipping across a border? Talk to a logistics broker
Managing the logistical side of a trade show that's taking place within your city is a challenge, albeit a manageable one. Managing the logistical side of a trade show within your stage is an even bigger challenge — again, one that most people with experience can manage.
Add a new state — or, for an even bigger challenge, a new country — into the equation and the process of preparing for a trade show becomes far more challenging. From insurance to vital documents, preparing for a trade show becomes more difficult when borders are involved.
Because of this, it's best to work with an experienced logistics broker if you're taking part in a trade show in another state or country.
A logistics broker will be able to keep you informed of any essential paperwork in advance of your event. They'll also be able to complete most of the logistics process for you, saving huge amounts of time and letting you focus on preparing for the event itself.
Finally, there's a good chance you'll be able to save money by working with a broker, whether in the form of a direct cost or via the time you save by outsourcing the logistical side of preparing for an event to a third party.
Shipping long distance? Compare quotes for the best deal
Most trade shows will work with a freight company to provide an all-in-one service for exhibitors traveling from out of town or out of state. While this service is convenient, it often comes with a significant pricing premium due to unionized freight rates or a sponsorship deal.
If you're aiming to minimize your spending and stay within your budget, one of the best things you can do to keep costs down is to compare shipping quotes from a range of providers to find the best deal.
Often, different carriers and third-party logistics companies will offer significantly different rates, letting you save a huge amount of money by picking one provider over the other. Better yet, the process of shopping around is quick and easy, making it a no-cost activity for your business.
If you're preparing for your first trade show, comparing quotes can give you a good feel for how much it will cost to manage the logistical side of your event. If you're returning to a show, there's a real chance you could stumble upon a better deal than your current shipping carrier offers.
Either way, it's a win for your business — one that can significantly reduce your total costs as an exhibitor and help you increase your ROI from any event.
Exhibiting for the first time? Hire a trade show logistics expert
Preparing for your first trade show can be an extremely challenging process, especially if you're part of a startup or small business. As such, it's best to outsource the logistical side of exhibiting to the experts.
We offer an all-in-one shipping, installation and dismantling service that's designed to help you get your trade show booth to the venue and enjoy a completely done-for-you, stress-free event experience.
Instead of worrying about the details, you can focus all of your efforts on preparing for the event, from tracking down the best post-show parties and meetups to practicing your product demo or presentation.
You can learn more about ourtrade show logistics service here, or contact us directly to talk to a member of our team.