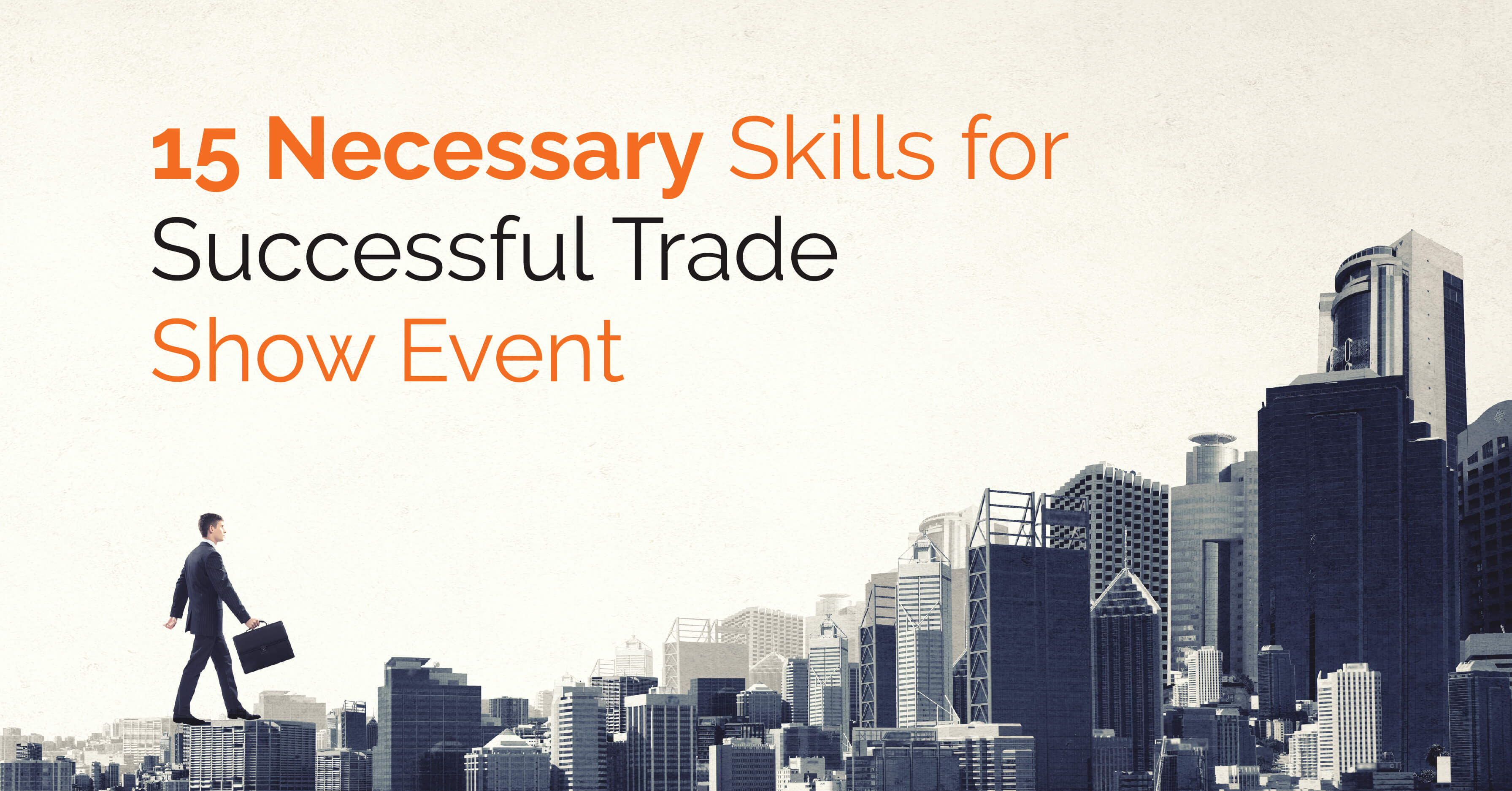 15 Necessary Skills for Successful Trade Show Event
Entry to trade show participation is often considered as a complete bundle of responsibility to be handled by your marketing team. The way your marketing team demonstrates at the trade show determines the face of your brand. Many marketing executives would consider a trade show to be a front end job.
Yet it makes enormous good sense to assert that there is a great deal of skill required at the back end of a trade show to put forward the best face for your brand. From the process of planning, scripting to executing your trade show event participation, certain necessary skills are required to be practiced and developed by diverse personnel involved in making it a huge success for your marketing team on the floor of the show.
Here, we look at some of the key skills that are required to make it big at your next trade show event.
Logistics Planning Skills

 Finding the Right Trade Show Partner
How would your team feel if you find your booth stand absent on the floor of the trade show? Prior to beginning with your trade show plans and discussions, it is crucial for your team to find a trade show booth designer and builder, such as Exponents trade show display, that is an expert in offering commendable logistics service and on-ground support to make your participation experience a seamless one.
If they lack at offering concierge support and relative transportation services, it would make it highly difficult for your team to sail smoothly on the day of your event.
 Plan in Advance
Maintain a tendency of planning and thinking ahead of time. Your team must be able to comprehend all the possible requirements of your booth rental from the very beginning.
Having these skills would make you tackle any unforeseen event that can include delays in delivery. Make a contingency plan to steer clear of any unwarranted situation that can arise with the delivery of your booth.
 Get all the Relevant in-transit Details
The supply-chain involved in getting your booth from the warehouse to the final destination has numerous components and tiers. Delays encountered at any step might turn to be a big challenge for your team to adversely affect your trade show participation.
Being able to get all the requisite information including the tracking details of your booth stand would make it highly easy for your team to sort out all the responsibilities in a precise manner.
 Following-Up Regularly
Train your concerned departments dealing with your trade show booth partner to take regular follow-ups to get accurate information related to the progress of your booth movement. This would help your team to be ready with a plan B if you come across any possible delays at any point in time.
Encourage your team to stay in connection with your trade show booth partner from the beginning to the end to understand all the know-how of practices involved in the transportation of your trade show booth rental.
 Eliminate the Space of Miscommunication
Communicating with your staff and booth partners require you to be skillful in tackling any challenge that can arise out of miscommunication. There is absolutely no room for such things to happen when your brand name is at stake. Being able to score the highest at a trade show event requires you to solve any such obstructions very smoothly.
Branding Skills
 Demonstrate your USP
Trade show visitors mostly get attracted to trade show booth stands that demonstrate their unique selling proposition and key brand differentiators in the most sorted manner.
In the crowd of thousands of exhibitors, the wide number of trade show audience search for the brands that offer something unique than the others with their booth stand. Highlighting major brand traits in your booth design is what makes all the positive difference that leads you to achieve a successful trade show participation.
 Convince your Customers
What is the use of participating in a trade show event if your marketing team is unable to convince the targeted prospects and visitors in general to take a trial of your products and services?
A trade show is meant for convincing your existing and prospective customers to get insights on your brand offerings, enable them to understand your brand philosophy and consequently turn them into substantial leads.
Consider all these aspects well before choosing your marketing team for the trade show event to get maximum success on the floor of the event.
 Offer Solution, Not Products
When curious business professionals enter the arena of your booth stand, your major goal should be to address their concerns without bombarding them with explanations and briefings related to your line of brand products. Visitors prefer to visit booth stands that have a skillful set of marketers that can solve any of their business challenges with innovative and novel solutions.
Putting your brand products on display right in the beginning without considering their requirements and demands would only lead you to lose the attendance, which is strictly against your trade show participation goals.
 Multi-task at the Trade Show
A trade show is not something that is a linear procedure that can be simply managed by standing in one place for the complete duration of the event. It makes for a busy event that requires your team to be on their toes for any unwarranted situation.
If any of your team members is unable to multi-task at the event, it will adversely affect your overall performance, thereby proving a block to achieve success. You need to build a team of marketers that are good at doing multi-tasking to handle any type of situation instantly and create a positive outcome for your brand of it.
 Listen to Your Visitors
Follow the rule of 80-20 rule on the floor of the event where you listen to your visitors for 80% of the time and speak for just the remaining 20%. It shall not be proved to beneficial for your brand that your team overcommits and underdeliver.
Understand all their requirements from A to Z and only, then put forth the solutions. Remember that you commit on the basis of what you have earned, you must deliver beyond the customer expectations to achieve your targeted marketing goals.

Financial Planning Skills
 Budgeting for the Trade Show
Prior to beginning with your trade show participation planning, analyze your marketing budget closely and ask your team if participating in a trade show event is a viable option for your brand.
Look at the direct and indirect benefits that it will provide your brand and sit with your finance team to create a proper framework for your budget outlay to achieve maximum returns on your investments.
While making your budget. make sure that your probable trade show participation outcomes outweigh your marketing and trade show booth costs.
 Fiscal Prudence
Maintain fiscal discipline while your marketing team makes the choice of finding the right trade show booth partner. Find a booth partner that offers pre-committed prices on booth rentals.
A maximum budget has to be fixed that cannot be overruled in any circumstance to achieve the highest benefits with your trade show participation. Once you have a crystal-clear knowledge of what you are spending, it becomes easier for your team to generate substantial results out of the event.
 Register Early to Get Discounts
Registrations for trade show events is a laborious procedure that requires the attention of your team in advance. If you are aspiring to achieve great success with your trade show participation, make sure that you register for your trade show entry in advance.
Not only that it makes your brand eligible for many early bird discounts and offers, but it also enables you to grab the best section on the floor of the event.
 Optimize your Trade Show Spending
While planning for your trade show participation, look for various methods of cost optimization to trim your extra spending to the minimum.
You can save some of the costs by making online travel booking and avail various discounts, get detailed know-how of the local geography to avoid getting overcharged while using local transportation and calculate the distance of your event location from your hotel to save those unnecessary costs.
Streamline your Event Choices
Carefully choose your trade show events and calculate them well before signing up for your trade show participation. Streamline your goals and clearly consider all the pros and cons of participating in a particular event. Take into account your expected ROI and calculate the traction that it will gain in the market.
Once you are convinced that your trade show participation excels on all these parameters, it would become highly convenient for your marketing team to scale success on the floor of the event.
Scaling success at a trade show event is a strategic procedure that needs to be addressed with high precision from the very beginning.
Your trade show success is not defined only on the basis of how your team performs on the floor of the event, but a rigorous post-mortem of your event participation shall enable you to learn from your past events and enable you to make the relevant changes to achieve even better results at your next event.