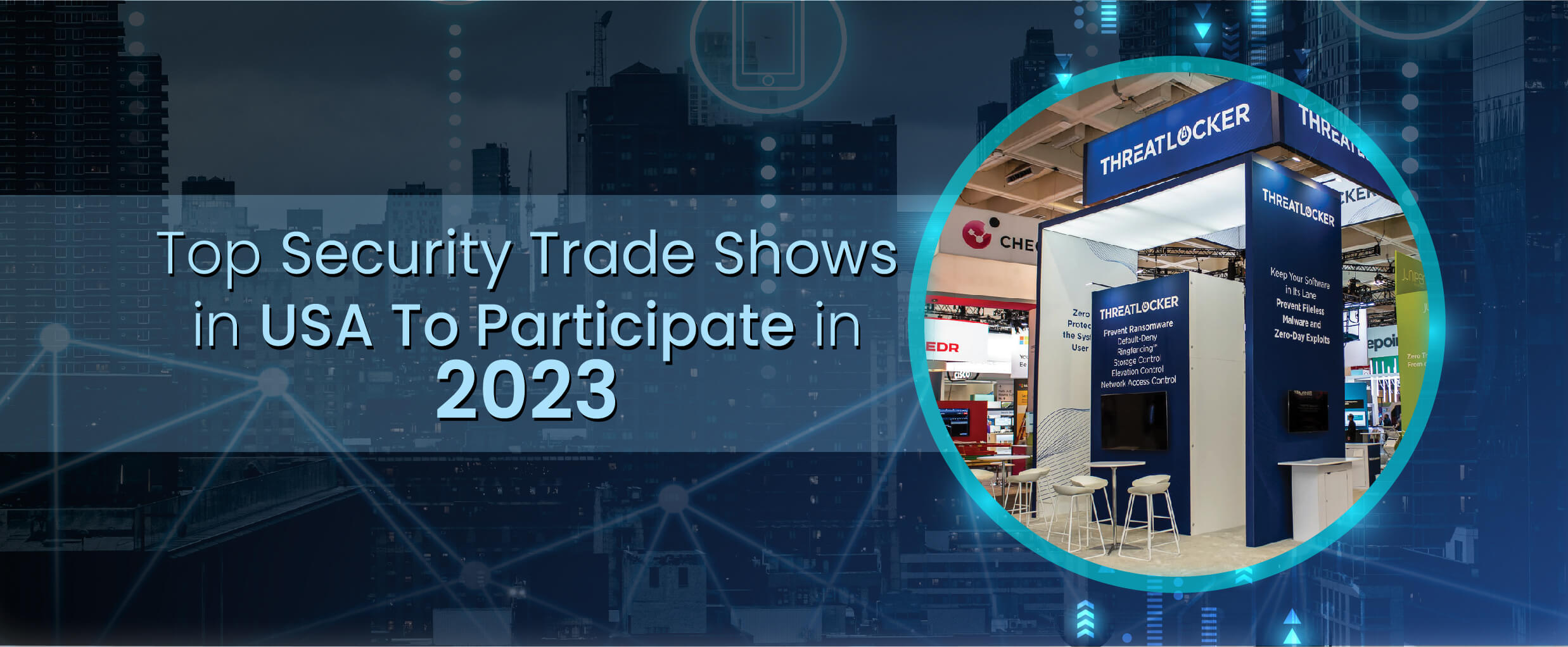 Upcoming Security Trade Shows in the USA in 2023
Top 15 Security Trade Shows in the USA in 2023
Security and defense are two key areas that require to be treated with the utmost attention at all times to maintain the safety standard of the people. To maintain a safe environment and counter any threat, people need the right equipment and capabilities.
Security trade shows provide an excellent platform for all stakeholders to connect, exchange views and ideas, and take their business and allied interests forward. For the buyer, there is a chance to see, understand, and evaluate the product they wish to purchase. The huge advantage here is an extensive range of similar products and alternatives to compare and choose from. These trade shows offer a stage for noteworthy networking, not only by the consumers with the defense services but also between several industry segments, representatives of governments, and service providers. Security expos in 2023 will have a vital role in the defense services and the entire defense and security sector. You can achieve much from such exhibitions as they are a critical cog in the arms and equipment acquisition chain.
If you are a brand that deals in various security services and tools, what would be the best way for your marketing team to achieve the trust of your target audience? Participating in a security expo is the best way with eye-catching exhibit booth rentals to put your message across the audience and achieve your desired marketing goals.
We have listed here the best security trade shows in 2023 that you can explore to exhibit your products and services and enable you to get maximum returns on your investments.
Jump to Section
When: June 05-07, 2023
Where: National Harbor, MD
About the trade show:
Being one of the premier tech conferences in Las Vegas, the Black Hat USA 2023 is a leading conference for security experts, researchers, vendors, and hackers. This annual event is going to be held from June 05-07, 2023 at Mandalay Bay, Las Vegas + Virtual Event.
Now in its 26th year, the Black Hat Global Expo offers show attendees the latest research and trends in security. To give you a glimpse, the first four days will consist of technical training, and the rest two-day will consist of the main expo, which will comprise the arsenal, briefing, and business hall.
2. SHOT Show
When: January 17-20, 2023
Where: Las Vegas, NV
About the trade show:
The SHOT Show has expanded its venues to both Venetian Expo and the Ceaser's Forum. Get to witness more exhibitors, connect with businesses and learn newer education formats for the industry to move forward. If you want to participate in trade shows you can invest in custom modular booths for the best results. This is your chance to grow your business because the show has an estimated around 60000 visitors and 2000+ exhibitors.
3. Global Security Exchange – GSX
When: September 11-13, 2023
Where: Dallas, TX
About the trade show:
The Global Security Exchange is the most relevant and pioneering security expo that will be held from  11 to 13 September 2023 in Dallas, TX. With allied organizations and partners, cyber, operational, physical security professionals from across the private and public sectors will come together to elevate the event experience with the latest education learning experiences, revitalized networking opportunities.
As an attendee, the global GSX 2023 features comprehensive security education, various security professionals, and the most innovative technology in the world.
4. Usenix Security Symposium 
When: August 09-11, 2023
Where: Anaheim, CA
About the trade show:
The 32nd Usenix Security Symposium will be commencing from 09 to 11 August 2023. Popularly known as the Advanced Computing System Association, the 2023 Usenix gathers various engineers, sysadmins, researchers, and technicians from around the globe.
It is a three-day event, in which the main highlights are panel discussions, invited talks, as well as birds of feathers sessions. Whether you are an exhibitor or an attendee, the 2023 USENIX Security Symposium is a security show that you shouldn't miss.

5. DEF CON 30 
When: August 10–13, 2023
Where: Caesars Forum, Las Vegas
About the trade show:
Starting in 1993, the DEFCON Hacking Conference is one of the oldest and world's largest hacker events held annually. This year, the DEFCON 30 will be held in Las Vegas, Nevada, from 10 to 13 August 2023.
This three-day event is a golden opportunity for attendees to witness security researchers, computer security professionals, federal government employees, journalists, lawyers, students, and various other professionals with a general interest in hacking from various parts of the globe.
6. Gartner Security & Risk Management Summit 
When: June 05-07, 2023
Where: National Harbor, MD
About the trade show:
The 2023 Gartner Security & Risk Management Summit is scheduled from June 05-07, 2023, in National Harbor, MD.  This year, this annual summit brings together more than 3500+ attendees, 200+ exhibitors, and 60+ garner analysts.
This trade show mainly focuses on people-centric security strategies, protecting viral infrastructure, informed risk governance, risks & opportunities of smart machines, IoT, AI, and many more.
The summit will assist the participants in knowing about the practices and strategies to maintain cost-effective management of security programs to enhance the business. This three-day conference gives you a comprehensive update on cybersecurity threats and solutions. Participate in the summit to expand your network and get maximum opportunities to build your brand value.
7. SPIE Defense and Security
When: April 30 – May 04, 2023
Where: Orlando, FL
About the trade show:
Experience the enthusiasm of Defence + Commercial Sensing as approx., 5000 visitors and 250 exhibitors are expected to meet in Orlando for an amazing year. Engage in knowledgeable discussions with your peers, learn about the most recent advances in the defense & security sector, and connect in person with your industry colleagues. Hear about cutting-edge research in sensors, infrared, laser systems, spectrum imaging, radar, lidar, autonomous systems, and other community results.
8. IEEE Symposium on Security and Privacy
When: May 22-26, 2023
Where: The Hyatt Regency, San Francisco, CA
About the trade show:
Starting in the 1980s, the 2023 IEEE Symposium on Security and Privacy is one of the leading conferences for presenting developments in electronic privacy and computer security. This flagship event welcomes various researchers and practitioners in this field.
The 44th IEEE Symposium on Security and Privacy will take place from May 22-26, 2023. This conference features various workshops on technology and consumer protection, deep learning and security, the Internet on safe things, and more.
9. FS-ISAC Annual Summit 
When: March 19-22, 2023
Where: Orlando, FL
About the trade show:
Hosted by the Financial Security Information Sharing and Analysis Center, the 2022 FS-ISAC annual summit will take place from in Orlando, FL. This annual summit is ideal for CISOs, CEOs, CROs, EVPs, SVPs, or VPs from security operations, audit & compliance, payment risk, physical security, or investigations industry.
This year, the 2023 FS-ISAC features 40+ interactive sessions, presentations by senior executive FS-ISAC members, and New York Times best-selling author, Brad Meltzer as a keynote speaker.
10. InfoSec World
When: September 25-27, 2023
Where: Disney's Contemporary Resort, Bay Lake, FL
About the trade show:
The InfoSec World is a golden opportunity for you to connect with your peers and various security practitioners from around the globe. Also, the business of security conference will be completed for 26 years, giving you a chance to sharpen your cybersecurity skills.
This year, the 2023 InfoSec World will be held from September 25-27, 2023 at the Disney Contemporary Resort, Lake Buena Vista, FL. Every year, the main highlights of the InfoSec World event include conferences, seminars, e-learning workshops, executive programs, and in-house training sessions.
11. The International Security Conference & Exposition WEST
When: March 28 -31, 2023
Where: Sands Expo, Las Vegas, NV
About the trade show:
The International Security Conference & Exposition is scheduled for 2023 at the Sands Expo in Las Vegas. The ISC West plans to engage attendees with thousands of security & public safety professionals from the industry. The event will hold over 20+ special events for the attendees.
The conference's primary purpose is to accelerate market recovery and redefine the future roadmap of the security & public safety industry.
The attendees will have a chance to explore the latest security technologies like video surveillance, alarm systems, emergency safety tech, and visitor management. The highlight of the entire conference is the emerging technologies such as smart home solutions, drone technology, robotics, and IT/IoT-related inventions.
ISC West is one of the top security conferences to get to know more of the latest security and public safety technologies at the conference.
12. The International Security Conference & Exposition EAST
When: November 14-16, 2023
Where: Javits Center, NYC
About the trade show:
If you are from the easter region wanting to attend the security conference, the ICS east is the place to be. Like the ICS West, the event will be a rendezvous for security & public safety tech specialists to gather and engage in an exchange of ideas. ICS is bringing together the latest and greatest tech innovations and current generation security and public safety systems to the east with its ICS East Security Conference & Exposition.
13. Techno Security & Digital Forensics conference
When: June 05-08, 2023
Where: Wilmington Convention Center
About the trade show:
Techno Security & Digital Forensics Conference will provide a unique experience that brings together the world of digital forensics and cybersecurity together. The conference will help private and government sectors to collaborate and use make the best of the technologies
The conference is one of the most important security trades shows 2023 for enthusiasts in the forensics and cybersecurity industry.
14. APCO 2023
When: August 06-09, 2023
Where: Nashville, TN
About the trade show:
APCO International Annual Conference is where you get to meet the best minds in public safety communications. From frontline telecommunicators to service vendors, you get to meet everyone from the safety communications industry under a single roof. This is a premier event for safety communications enthusiasts.
15. ISS World North America
When: November 07-09, 2023
Where: Washington, DC
About the trade show:
The ISS World North America is going to be the largest gathering of the American Law Enforcement, Defense, Public Safety, and Homeland security. The Program intends to present the new age technologies in the fight against drug trafficking, human trafficking, and cyber money laundering, terrorism, and all other criminal activities.
Make the most of these events by participating and exhibiting your best products and services before the leading business professionals from across the world.
Start your planning for the best information security conference and trade show participation with an experienced trade show booth manufacturer that caters to all your booth requirements and enables you to achieve maximum returns on your marketing investments.
Browse through our portfolio to find booth for your upcoming Trade Show Exhibits!
16. Mesquite Premier Gun Show
When: February 04-05, 2023
Where: Mesquite Convention Center, TX
About the trade show:
Participate in the Mesquite Premier Gun Show to expand your market visibility in the security industry. This trade show offers everything you're searching for with over 120 exhibitors of guns, knives, ammo, and shooting equipment! 45000 attendees are expected to turn up to this event to explore the ammunition industry. Plan to interact with plenty of experts in the field and increase your sales.
Attending trade shows is an important part of running a successful business. However, the difficult part is parsing through choices so that you can find the events that make sense for your business. Participating in these security trade shows can help you stay in tune with all the things happening in the security and defense industry. No matter what phase your business is in, trade shows are perfect for connecting with buyers. Hopefully, this list should help your trade show calendar planning. When you select your trade show to participate having a trade show booth becomes the priority. Hire a trusted booth-building company to craft engaging trade show exhibit designs that allow your visitors to understand your product more efficiently.
Disclaimer: The reader be informed the serial number given on this page is not a ranking order for the shows and the content herein is put in an order that makes it easier for the reader to search details of a specific show and quickly navigate through the page.