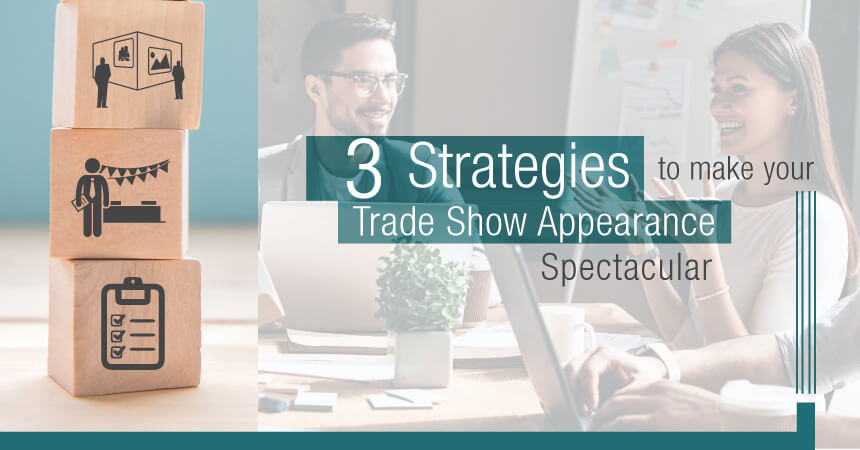 3 strategies to make your trade show appearance spectacular
3 Strategies to Make Your Trade Show Appearance Spectacular
The Center for Exhibition Industry Research (CEIR) shared their insights at one of their webinars on April 22. Their report states that 41% of trade show organizers postponed events to November and 34% have postponed it to 2021. The current outlook is that Once Covid-19 is brought under control, trade shows will start to recover around the fourth quarter of 2021.
So, despite the current situation, trade shows continue to be an important marketing tool for businesses. After all, where else can your business reach out to relevant prospects and forge partnerships in a short span. Still, participating in a trade show is expensive, whether you buy or get trade show exhibit rentals. You need to have a marketing strategy and a way to measure its success.  And, here are three strategies we can outline, for you to make your trade fair appearance spectacular.
1. Know your visitors, define your objective
Companies that attend trade fairs with a 'we'll wait and see approach' will not like the results they'll get if they get any. To succeed with your trade fair appearance, you need to define your objective and know who you are marketing to. Trade fair participation offers several benefits, but the main benefits that trade fairs offer are:
Getting new and relevant leads for your business
Improving relationships with existing partners, vendors, and customers through face-to-face interaction
Promoting a new product or service
Now, let's look at acquiring new leads as an example to highlight how you can go about planning. First, we ask these questions to figure out who our visitors are:
Are they people who are just looking to gather information about the industry? Such as reporters, data researchers or students
Are they people who are open to business offers? Entrepreneurs, business heads or government officials
Now depending on the industry and what's allowed to be promoted at the trade show, the answer you get will change. So, your marketing's goals should be tailored to the trade show and its visitors. Some examples of possible objectives for getting leads can be:
500 new email address
10 pre-scheduled meetings with existing customers
3 new deals
Exclusive draw-in offers for new customers
Once you manage to find the common ground between what you offer and what visitors want, you will be able to define a trade show objective that has a high probability of success.
2. Prepare your trade show appearance
Don't stay silent till the day of the show. Start laying the foundation for potential customers to recognize your modular trade show booth during the show.
Communicate: Talk about your upcoming trade fair presence on your social media page, your website, emailer and newsletters. Get your sales team involved to inform clients about your show verbally. You can also have a poster at your office to inform employees and visitors about your trade fair appearance.
Customize your website: To reach out to even more people, you can create a landing page specific to the trade fair. The page has to be SEO-optimized so that visitors who lookup the trade show online will find your page. Make sure, that the content is relevant and to the point, you want to inform visitors about your trade fair presence but give them the information they searched for first.
Social Media: You should use social media platforms such as Facebook or LinkedIn to invite prospects and make appointments. You can also use Facebook to create events for people to participant in, these can be games, contests, or an educational presentation. If you have a portable trade show booth you can schedule different events at different trade shows with the same booth.
3. Plan a spectacular booth presence
An attractive design: Remember at the trade fair, your booth's job is to make your target audience pause and consider visiting your booth. To create this response, your booth needs look novel and entertaining. Its display should instantly make it obvious what value your company offers.  A sleek or stylish entrance attracts attention, despite what the product or service is being offered. A large banner will also make visitors aware of your brand, no matter where they are at the trade fair.
Entertainment that engages: For companies looking to promote their brand and not sell products, can attract customers with engagement activities. These can VR or AR games that let visitors experience your brand through games. Non-VR options include a photo booth, a raffle or spin the wheel contest, or lounge & workstation zones.
Offer knowledge: You can also have educational presentations, where you provide information and coaching sessions to visitors. Don't make the mistake of overtly promoting your product or brand here. You should provide visitors with real information that will help them solve a problem or annoyance they face. The benefit of this knowledge sharing endeavor is that your company gets viewed as an expert in the field. When done right, prospects, the press, and companies will be interested to contact you outside the show, out of their own volition.
These are some of the ways you can choose to entertain and engage your visitors. You will find dozens of modular trade show displays that fit any entertainment idea. So don't worry about coming up with an idea that seems untested.
So there you have it, three strategies you can deploy for making your booth presence look more spectacular.