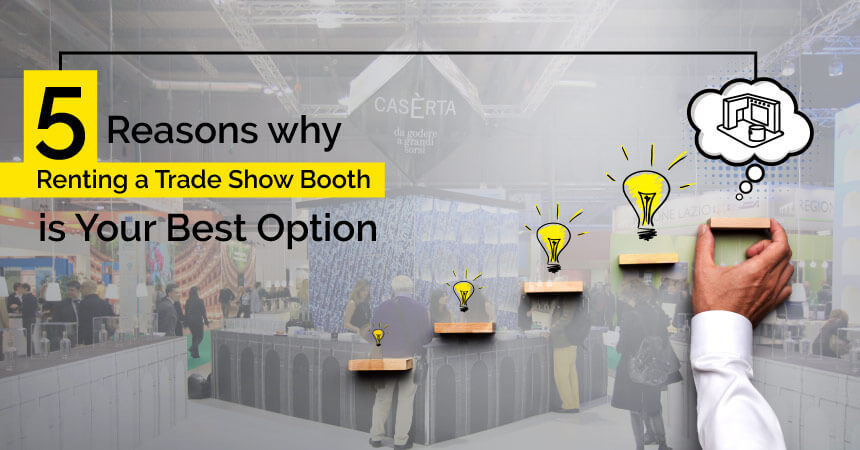 5 Reasons Why Renting a Trade Show Booth is Your Best Option
5 Reasons Why Renting a Trade Show Booth is Your Best Option
While exhibiting at a trade show, the main goal of every participant is to generate maximum ROI from a trade show booth. Whether you are exhibiting for the first time or a frequent exhibitor, trade show booth rentals have numerous benefits and ensure excellent ROI.
Let's take an example, suppose if you want a house for a limited time or you want a car since your car is in the garage for repair then would you purchase a new one? Thinking from your budget perspective, you would prefer renting a house or a car for time being because that would make more sense. The same goes for trade show booths. One needs to evaluate whether buying or renting trade show booths would be cost-effective in terms of managing your trade show budget.
We have listed below a few perks of investing in trade show booth rentals.
1. Save time
One of the main advantages of using rental trade show booths is the time saved. A lot of time is lost in planning and strategy before a trade show. Without a rental trade show booth, you may also have to plan and build a stand.
In doing so, you could better invest the time that you have spent on designing and manufacturing the trade show booth in planning and preparing your trade show presence and the necessary marketing campaigns. When you rent a trade show booth, everything is already preconfigured and ready for use. That saves a lot of effort and trouble.
2. Reduce costs
Renting a trade show booth saves not only time but also money. Several measures are required to design and build a booth display. First, you would have to hire someone who can design the desired booth and bring in the important trade show booth ideas.
Then you would have to procure and purchase the materials for the stand construction including hardware, wood, paint, etc. Next, you'd have to pay a booth construction company to build the exhibit. Renting a booth saves you the hassle and expense, so you can use those budgets to achieve your marketing goals.
3. Unique booth design that appeals to visitors
Tailor-made trade show booths for rent are tailored to your individual requirements. You don't have to do without individual trade show booth design ideas for your booth. Rental trade show booths such as those from Exponents Inc. offer an individual design that fits your marketing strategy.
Nothing attracts visitors more than a trade show booth that clearly stands out from the others. Regardless of whether you are expecting a display that fits your corporate image or one that communicates the message of your products – tailor-made trade show booths meet your requirements and support your marketing activities. With a rental trade show booth, you don't have to forego individuality.
4. Bet on the graphic to get attention
It is of central importance to be seen and recognized quickly by visitors to the trade show. That is a crucial requirement. So if you turn to a company that rents trade show booths, make sure that they can also create graphics that fit their marketing strategy.
Experienced designers are able to use high-quality materials in such a way that the attention of the target groups is attracted. This provides a competitive advantage and increases sales.
5. Your booth is delivered and installed
You can have the booth delivered and installed. This also saves you a lot of time and money. You don't have to pick up your booth or worry about how to transport it. Experienced trade show booth companies such as Exponents Inc. provide drayage facilities for free in more than 50 cities in the USA. Therefore, we will deliver the booth for you directly to the trade show.
Assuming you needed a trade show booth for rent in Las Vegas or otherwise, the trade show booth would be delivered directly to the city. As soon as the delivery has been made, the Exponents team can also install and dismantle the exhibit for you. This saves you the effort of setting up the exhibit yourself and gives you more time to concentrate on your marketing for the trade show.
Conclusion

In summary, we have presented you with the advantages of a rental trade show booth, which will help you to successfully achieve your marketing goals.
Moreover, we have provided you with valuable information on how tailor-made trade show booths can be custom-made to the needs of your company.
You learned how custom graphics can attract visitors to the show and increase sales.
You can also save time, money, transportation and labor by having your booth designed, delivered and installed. The booth design companies behind the trade show booths work strictly according to the requirements of their customers. Regardless of whether you are a large or small company and what product you want to sell – companies like Exponents will support you.