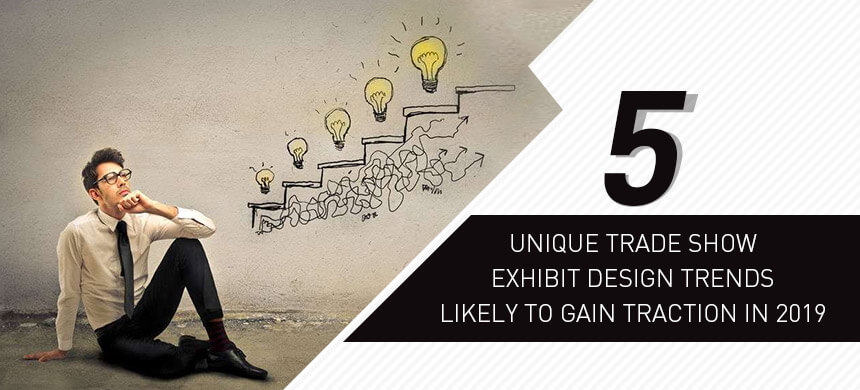 5 Unique Trade Show Exhibit Design Trends Likely to Gain Traction in 2019
5 Unique Trade Show Exhibit Design Trends Likely to Gain Traction in 2019
If you are planning to exhibit in the coming year, it is highly important for you to track the evolving trends of trade show booth designs that have appeared at the forefront this year.
As major blue chip corporations, small businesses and trade show booth designers and builders continue to contribute to the evolving landscape of trade show booth design thinking, it is likely that the year 2019 shall see a forward movement of trends that were visible this year.
We take you through five unique trade show exhibit design trends that are likely to gain traction in 2019.
1. Custom Configurations for Added Responsiveness
Conceptualizing your tradeshow exhibits design is not just restricted to the four walls and a window to deal with the visitors. Recent trends have shown that interactions at trade show events have become a two-way process.
Modern trade show design thinking is about responsiveness and receptivity to visitors. Your visitors are no more interested in just getting a description of your brand philosophy.
They need something extra, like a live demo, 3D presentation, touch screen displays, augmented reality, virtual reality, and what not. In addition, they also need to feel comfortable while interacting with your marketing team.
In an environment of cut-throat competition, you need to come up with something unique for your booth design. Approach the designing of your booth in an unconventional way by putting the infrastructure to multiple uses.
You can get a customized sofa for your customers to relax during the exhibit hours, which can be reconfigured to become a container to store your valuables during the closed hours.
Apart from being cost-effective, it adds up to the security of your booth. A similar approach can be followed with the walls and panels of the booth stands as well.
Drive traffic in your booth like never before by installing a selfie wall in your booth design. With the latest trends that revolve around people updating every small detail of their personal lives on social media, it can very well act as a good promotional idea for your brand.
Make your display location-specific to reach a greater number of local audience. Playing with customization in your trade show booth designers can really help you stand apart from the crowd and get maximum marketing benefits.
 2. Changing Patterns of Lighting
Utilizing lighting to augment the value of custom exhibit booth designs is certainly not a new concept in the trade show industry. How the methods of its utilization have upgraded is definitely something that needs your attention.
Nowadays, most of the visitors get attracted to the booths that are embellished with unique lighting methods to highlight their star items.
You cannot simply wish to gather a big group of the audience without offering them an attractive view that can only be possible with the use of effective lights.
Showcase your brand offerings like never before by focusing on the star item that can attract the audience to visit your booth in the first place.
With the major use of down lighting, shadows, and mobile lighting, you can create a dramatic effect in your booth that captivates the attention of your key audience for a much longer period of time.
Pique your customers' interest by creating a sense of mystery in your booth by setting the lighting as such that it highlights your main products and services.
Incorporate a theme based lighting that creates an aura of a beautiful show. You can also integrate the lighting system with voice commands or music to increase the impact of your demonstrations on the floor of the event.
You can also incorporate the system of remote-controlled lighting that focuses on a particular item at a time, which can assist your team to explain about the individual offerings in a much better way and to create better clarity for the visitors.
3. Provide a Relaxing Experience to the Visitors
The days of age-old booth stands that had a façade to deal with the trade show audience has long gone and become obsolete. Visitors look out for brands at the trade show events that offer them a relaxing and comfortable experience while learning about their offerings.
The situation turns out to be much more complex when you are dealing with the renowned professionals that solely visit trade shows to close deals and establish a business alliance.
Having an extra space to make your visitors comfortable has become a necessity more than an accessory.
Strolling down from booth to booth can be really exhausting for the visitors and they look forward to those booth stands that offer them some source of comfort.
You can step up your trade show game by incorporating and sporting a lounge area on the floor of the show to attract the visitors in great numbers. While the visitors relax in the sitting area, your team gets an ample amount of opportunities to discuss their sales pitch.
It has been widely seen that exhibitors that have incorporated this idea in their booth design have received better results at generating leads by engaging the visitors for a longer period of time.
In addition to an inviting and friendly environment, this trend works best if your brand offerings are related to essentials used at home.
Your visitors can analyze the viability of your products and services well and envision its working in a comfortable environment.
4. Visual Merchandising
Your team is often encountered with the problems of prolonging the attention of your visitors and prospects at your booth stand. They may have arrived at your booth after witnessing the vibrant display in the front but it is just not enough.
If the visitors don't find anything substantial in your booth while they observe it for the first few minutes, you may as well lose the opportunity to build any further communication with them.
What practice should be followed in such tricky circumstances? Create a wow first impression of your brand with the clients by positioning your brand highlights strategically at all the central points of your boothy.
With effective use of pop-up design, festive decorations (in festive seasons) and banners displayed with discounts and offers, you can capture the attention of your prime audience for much more time.
It plays as a visitor magnet that leads them to raise questions regarding the services you offer, that makes it one step closer for you to close a substantial business deal.
Know your customer well before working over the designing of your merchandising settings. You can get the basic demographic details of the event location prior to beginning with the preparations.
Make sure that you choose the right theme for your display to create an unambiguous brand story that reaches to your visitors without any confusion. Make good use of a vibrant color palette to enhance the effect and try to keep the design simple at the same time to enable your visitors to chalk out the details properly.
5. Platforms to Install Interactive Kiosks
When we talk about the attendance that a trade show event attracts, it can go up to a great scale. There would be times at the trade show when your team would be bombarded with a series of queries by the visitors.
The proportion of the strength of your team and the visitors can become really imbalanced in such circumstances. In such cases, you may not be ready to lose any probable prospects that might be a big opportunity for your business growth.
You can easily counter this challenge of managing such overly crowded situations by using kiosks, which are the modern interactive platforms, such as Alexa, Google voice command, to alleviate the stress of your team.
It is an easy way to channelize all the necessary information that is expected to be given from your end to the visitors. In contrast to humans, it doesn't need to be provided with any breaks in the middle of the trade show event and it works in the perfect order every time without any possible errors.
Such trade show kiosks are easily manageable and don't require to be guarded by a dedicated person. It can work 24/7 that allows you to build maximum traffic at your booth at all times.
It also creates a sense of inquisitiveness in the audience that leads them to get information out of them. Interactive kiosks do not take many efforts for installation and dismantling as well. All these benefits in combination work best to enhance your business promotions.
Looking Forward to Trade Show Booth Design Thinking in 2019
All these emerging trends can really boost your trade show game to a great level. However, you must also focus on the fundamental aspects of trade show participation. Make a strong follow-up plan to keep the communication channels open with the visitors and prospects to expand your reach and get better opportunities for lead conversions.
Make sure that your booth design is strong and unique at the same time. Pay equal attention to the important elements of durability and feasibility.
Hire an experienced trade show provider that can fulfill all your booth demands in a hassle-free way in 2019.