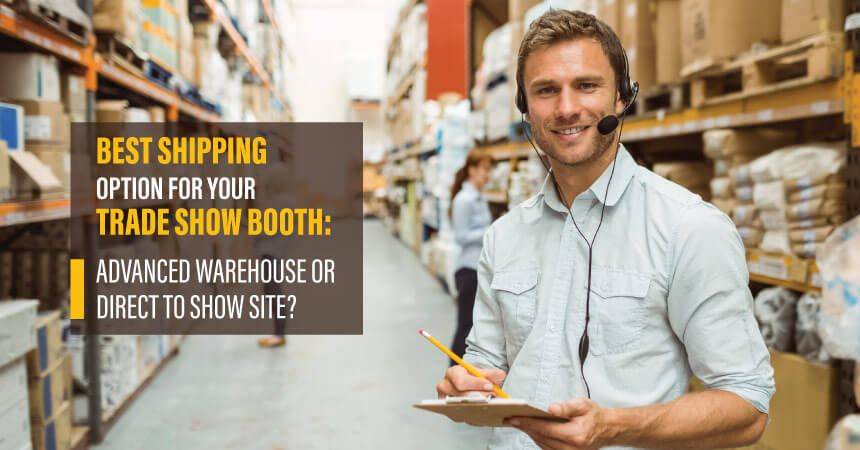 Best Shipping Option for Your Trade Show Booth
Best Shipping Option for Your Trade Show Booth
Advanced Warehouse or Direct to Show Site?
The High-Level Answer: It Depends
If you are a trade show exhibitor, you've likely struggled over the decision to ship your booth to an advanced warehouse or direct to the show site. Naturally, we want to know one way or the other – which is the better option? Unfortunately, the answer is, "it depends." It depends on many factors, some you will have control over, some you won't.
Knowing the pros and cons of each option will make the decision process easier. Perhaps you make the decision on a show by show basis. Perhaps you discover one option that works for you, and you stick with it. This guide will help you make an informed decision, either way.
What is Shipping to an Advanced Warehouse?
With this option, exhibitors ship booth materials to an offsite location up to 30 days before the trade show. The show decorator stores it at the advanced warehouse and, via the drayage process, get the freight to the show floor during move-in day.
What are the Pros of Shipping to an Advanced Warehouse?
Guaranteed on-time delivery
Priority delivery to the show floor
Avoidance of extraneous logistical charges
Convenient options for multi-show transshipping
What are the Cons of Shipping to an Advanced Warehouse?
Higher cost compared to direct to site option
Higher likelihood of damages due to more handling overall
Higher likelihood of overtime charges
Can only ship via pallets, crates, and specific cases
What is Shipping Direct to Show Site?
With this option, exhibitors ship booth materials to the venue during a set time and date listed in the show kit. Move-in happens in a short window right before the show opens.
What are the Pros of Shipping Direct to Show Site?
Reduced material handling/drayage fees
Can avoid overtime rates by scheduling specific delivery times
Reduced risk of damage and can insure freight
More time to prepare and handle last-minute issues
What are the Cons of Shipping Direct to Show Site?
Potential for shipping delays due to bad weather
Not knowing when your booth will arrive to the floor
Difficult planning of installation and dismantle
Likelihood of waiting time fees from special carriers
Analysis
The best option depends on your shipment, budget, and timeline.
The advanced warehouse option will almost always be more expensive. If you are good at planning, can budget it, and your exhibit ships nicely in crates or pallets, this option will almost always be more convenient. Convenience can sometimes be priceless.
The direct to show site option will likely be the most cost-effective option. If you are behind schedule in planning or anticipate last-minute updates to your booth, this option gives you more time to sort out issues. If your freight is very heavy or needs to be shipped by several different carriers, direct to show will likely be your only option. The chance of damaged freight is a lot less with this option as well.
Something to consider is using a combination of both options. Perhaps you ship flooring and hanging signs to the advanced warehouse, so they are available to install early. The rest of your freight can be shipped direct.
To learn more on this topic, we recommend the following two articles on our blog:
Your Guide to Drayage and How to Save on its Costs
Making Sense of the Major Players Involved in Producing Trade Shows
Follow Up
If you have any questions about this topic or would like to share your experience, please reach out in the comments section below this article.