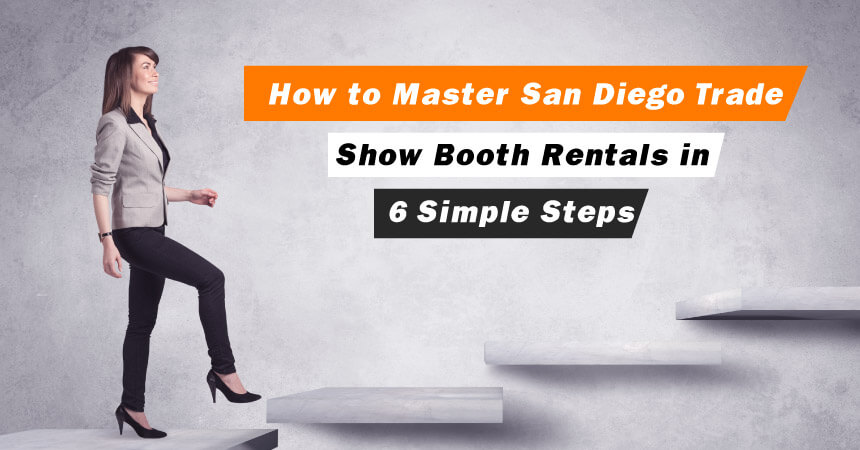 How to Master San Diego Trade Show Booth Rentals in 6 Simple Steps
How to Master San Diego Trade Show Booth Rentals in 6 Simple Steps
Innovation brings an organization closer to its dream of expanding its customer reach. This can be achieved by upgrading its existing products and services, which will directly increase the recognition of a brand in the market. However, it is important to keep in mind that if you own a startup or belong to a business community it is important for you to play it safe.
You must be able to choose the right marketing solutions as they will affect your brand's growth. Setting up a trade show booth is one such marketing idea. Trade shows have become a great platform for emerging brands. They are no longer traditional networking platforms. Instead, they have evolved into experiential marketing opportunities.
A typical trade show includes organizations that belong to the same industry, where every participant competes to make a great first impression on the scores of visitors. They work towards making the best use of the opportunities presented to them.
One such place that offers a package of amenities to its participants and attendees in San Diego. With an affordable cost of living and solid infrastructure, San Diego has seen a spike in entrepreneurial activity.
If you attend a trade show in San Diego, you'd realize that the diversity in innovations, is its best feature. For the same reason, it provides a solid ground for businesses to take root and eventually expand.
Apart from this, San Diego is best known for hosting the Comic-Con convention and numerous trade shows. On average, a trade show in San Diego registers close to 50,000 visitors.
If you're attending a trade show for the first time or even the tenth time, we're sure you've realized that every brand represents itself in a unique manner.
Their booth presentation depends entirely on the product they're selling as well as the theme that aligns with their product's storyline completely. And, with technology speeding up and taking over the digital space, brands have started using it to their advantage too.
Booth designers have started including massive hoardings and wall covers that help in marketing to a large and diverse audience. They have also understood the fact that even though we are digitally connected, the importance of meeting people face-to-face cannot be undervalued.
This is why many brands have started installing well-equipped booths that act as the perfect bridge between the attendees and the exhibitors.
It comes as no surprise that setting up San Diego trade show booth rentals is a Herculean task. However, with advance planning, great attention to detail, endurance and persistence, you can easily achieve success at a trade show.
But, it is important to note that all these tasks can be executed perfectly only if the staff at the kiosk are well trained. Apart from this, there are several other things that one needs to keep in mind before setting up the stall. Here are a few of them:
 Start with a solid plan
Setting up a trade show booth can involve numerous phases and steps. The base of any successful event or campaign lies in the process of planning. While you plan your booth's display, make sure you do not rush into the process. Meticulously comb through every detail before you make a final decision. Chart out your organization's sales and marketing objectives. In order to formulate a foolproof plan, keep the following points in mind.
Keep information handy: Trade shows are one of the biggest marketing tools in the business industry. Before you set up your booth, make sure you use the information that you've gathered from past shows. Sit with your team and analyze sales leads, conversion, and strategies to increase sales. Ask for an outline of the floor plan, which will help you decide the area of maximum traffic.
Budget: Decide the limit of your budget. Allocate sufficient amounts to promotional giveaways, event advertising, employee salaries and rent. Keep a small amount aside for emergency situations.
In-depth audience research: Understanding your target audience is paramount for boosting your booth's presence. Ask the organizer if they already have some stats and figures about participation that will enable you to create a solid marketing plan to target your specific audience.
 Use simple signage
Visitors will stop by your booth only if they find it interesting. Your signage and display should be kept simple but still draw in a crowd. Think of your booth from a passerby's perspective. Now, imagine that the visitor has to previous knowledge of your brand or your offerings.
Does your stall's presentation instigate a sense of curiosity in the visitor's mind? If yes, then you might have acquired a new lead. Simple signage will leave a lasting impression on the attendee's mind.
 Find the right staff
At every show, it's important that you find articulate and outgoing individuals who are easy to approach to work your booth. You will then have to spend some time training them so they know how to walk up to and engage potential customers right away.
Building a warm relationship with your visitors will help you build relationships that will last long after the trade show is over. Your staff should also be quick enough to remember specific details that visitors might share with them during the conversation.
By bringing up the customer's interests later, your staff will create a very good impression. Amidst the scenario of creating a healthy relationship, make sure you avoid small mistakes like eating in the booth area. It is incredibly unprofessional and is likely to make visitors feel unwelcome.
 Offer giveaways and host demonstrations
By offering gifts to the many people who choose to enter and engage with your booth, you're like to draw in larger crowds. When attendees visit your booth, make sure they don't leave empty-handed.
Even if you can't afford to provide each person with a customized canvas bag or jersey, at least attempt to give them free product samples or exclusive voucher code for a discount on your offerings.
Another great way to really bring in traffic is by hosting live product demonstrations regularly. By giving visitors a chance to experience how your offerings can make a difference to their life, you're sure to attract valuable leads and might even be able to close lucrative deals right on the show floor.
Create a buzz on social media
Given the fact that we live in a digital era, it would be foolish to build an entire marketing campaign without using social media. In the months and weeks leading up to the event, you can start talking about where you'll be on the day of the show.
Invite your followers to the event and promise a fun giveaway if they show up after accepting your invite online. You can also use these platforms to give people sneak previews of what you're hoping to bring to the show. Behind the scenes, videos of you working on your booth are likely to draw in a large number of likes.
The event is likely to have its own hashtag, so make sure that you use it every time you post to drive engagement with users and reach out to a wider audience.
If you want to make things even more interactive, you can start your social media campaign well in advance and ask your clients and customers for their opinions on what you should do at the event. Do they want to see more products and demonstrations or do they simply want to learn more about what your brand is currently doing in the market?
By asking people their opinion, you're including them in the planning process. This will make attending the show, even more, inviting for these individuals since they will feel like they helped you create your entire booth.
Follow up fast
As and when people enter your booth, you need to find a way to gather their details so that you can follow up with them. Using a good lead generation software is one of the easiest ways in which you can ensure that you collect all the right leads.
If you wait too long to follow up on a lead who has shown interest, you run the risk of him forgetting about your brand and what you did at the event. To avoid this, it's best to try and call your potential customers as soon as possible. People you meet during the first half of the day can be called in the evening itself, while those you meet during the second half of the day can be spoken to the following morning.
When you're calling, don't forget to clearly state who you are and what exactly you spoke to your customer about. Small things like remembering their name and details about their life that they shared with you will hold you in good stead and help you convert your lead into a long-term customer.
You can also up to the ante by sending personalized emails and thank you notes to everybody who came to the event and engaged with you and your staff. If nothing else, it will keep your brand's name fresh in the mind of the attendees.
With a little hard work and planning, it's quite easy for brands to make the most of their San Diego trade show booth rentals. As long as you always have the main target in mind and create a display that will help you achieve your goal, you should enjoy a successful trade show performance.