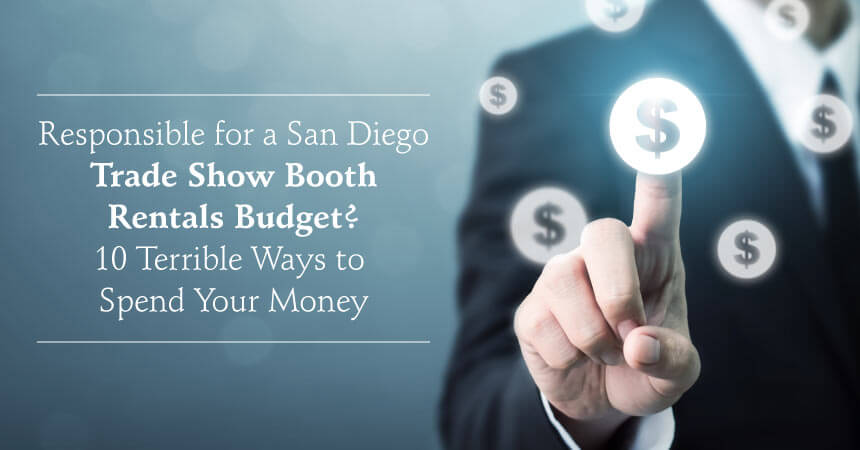 Responsible for a San Diego Trade Show Booth Rentals Budget? 10 Terrible Ways to Spend Your Money
Responsible for a San Diego Trade Show Booth Rentals Budget? 10 Terrible Ways to Spend Your Money
In the heart of Downtown San Diego lies the 24th largest venue to host trade shows in the United States. This Pacific Coast city is known for its warm climate, parks and splendid beaches. Paving way for the tourism industry, San Diego trade shows are lucrative and quite successful.
But, to achieve success, with San Diego trade show booth rentals must leave a lasting impression. Extensive pre-planning is required to achieve the desired results since the competition here is quite cutthroat.
Unfortunately, exhibiting isn't free. A large investment is required to create a booth that will catch attention and draw visitors in. Those who plan their finances well can pull off a show even with limited money.
On the other hand, large corporations sometimes find that despite the money they pour in, they're unable to get the results they want.
If you think you've been making mistakes with your trade show budget, then this guide will tell you about 10 common mistakes that you should avoid making:
1. Forgetting to plan
Every successful event requires a careful amount of planning. Imagine spending loads of money for a trade show booth, only to realize that it's a mess when you reach there?
Planning in advance will help you save a lot of money. If you plan your booth designs, book your location in advance and get things together. You might even get everything for a comparatively cheaper rate.

2. Participating without a defined goal
You need to figure out what exactly you want from the trade show. Is it 100 leads or 20 solid ones? Do you need a good network within the industry or new connections with potential employees?
You need to determine exactly what you want to accomplish and then develop a concrete plan. You might not reach your goals all at once, but you will definitely learn from your mistakes and know what not to do in the future. If you don't have a concisely-defined goal, you're wasting your time and money.
3. Going 'too big' or 'too small'
For beginners, it is important to understand how trade show marketing works before diving into the deep end. Start with an inline 10 x 10 booth. This will give you the opportunity you need to learn about branding for trade shows and why choosing the perfect size for your booth is essential.
A bigger booth does not necessarily imply more customers. You might not get many leads if you're just occupying space and not making an effort to connect with the audience.
That's why it's better to start small and observe your peers. You will get to learn the nuances of graphics, display configurations and much more.
Don't just invest in an island booth and waste all your money right at the start. Instead, choose a smaller exhibit and slowly work your way up to an island booth.
4. Skipping promotions
When you have a trade show coming up, the most important thing is to let people know about it well in advance. Promotion is very important, be it online or offline.
If you don't promote your brand, you can expect less traffic and consequently lower sales. Advertising should be done before the event.
Use effective marketing strategies and campaigns on social media to keep your existing clients posted via emails and phone calls. This way, your customers will be able to keep themselves free on the day of the event.
Show attendees also plan which booths they'll be visiting on the day of the event. You need to let them know your booth location and give them a reason to visit your booth.
If you don't promote your business by investing in social media marketing, you're going to be in big trouble. It is more likely that your competitors are promoting themselves using effective online tools and building a strong following.
5. Hiring the wrong booth staff
Your staff aren't meant to be confined to your booth. In fact, they should always be out in the aisle, having pleasant and cheerful conversations with customers. Their behavior and a friendly demeanor can go a long way in maintaining good company standards and building trust.
Also, your staff should be able to handle all customer queries effectively. This will aid the development of fruitful, long-term business relationships.
Your staff should be trained weeks before on how to talk to customers and gauge their interests. Socializing with the audience is extremely important, but it shouldn't hinder your responsibilities towards your booth. Invest your money on trained and skilled individuals who are excellent at communication and crisis management.
6. Giving away the wrong kind of swag

For most brands, giveaways at trade shows have become a compulsion instead of a smart marketing tool. Given this, companies look for ways in which they can cut down costs on this particular aspect of the show.
This is precisely where the problem lies since many make the mistake of assuming that any random gift will work. A giveaway is supposed to be an item that encourages attendees to remember your brand's essence.
Don't just give it away for the sake of it. If your brand has beauty products and you give away pens or pencils, it will obviously have no connection.
A giveaway has to be something that is in keeping with the theme of your trade show, and should be something that a customer can use frequently.
Instead of pens and pencils, you could provide a 30ml sanitizer that will last for at least a month in your customer's bag. If your giveaway is good and thoughtful, it will paint a good impression of your products and brand.
7. Focusing only on your booth
It is very tempting to hang around in your own booth as it feels safe and comfortable and you won't get lost or have to deal with unknown people. If that's what you think, then you shouldn't be at a trade show.
It is a platform to meet numerous potential clients and generate leads. Your disinterest and lack of communication might drive away potential suppliers, partners or competitors to another booth.
Instead of standing idly in your booth and relying solely on your trade show strategy, take a walk around. Study your competitors. Do they have any new ideas, products or services that could benefit your company?
Did you find something new and interesting that you never thought of before or probably overlooked? Even though your competitors might share some details, be smart in what you divulge. Don't disclose too much about your company.
8. Not sweating the small stuff
While working out their trade show budget, most brands will remember to factor in things such as design cost, space cost and even the cost of shipping the booth to San Diego.
But, what about the cost of giveaway, marketing materials and installation? There are a number of smaller costs that are completely overlooked and could spell trouble for your booth at the show.
On the other hand, overestimating everything isn't too good either. Skimping on your booth's graphics to help pay for a good looking water cooler for the corner of your booth isn't a great idea.
If you're finding it hard to figure out where to splurge and where to tighten your fist, put yourself in your target customer's shoes. Walk around your booth once and think about what they will want to enjoy in your space.
9. Displaying poor graphics
At a trade show, it's important that you use your booth to draw audiences in. Let your exhibit speak for itself. Sometimes, good graphical expressions can attract people from across the room.
Most of the time, we spend money on graphics without realizing the importance of the appearance of our stall. Your booth should be fun and vibrant and be able to convey the essence of the brand.
When you position your text below eye level, people will tend to walk past you without noticing it. Try and position it in the 2-foot zone where people will be able to see it on the back wall of your booth. Try and make sure that it doesn't go lower than 5 feet above the floor.
If your text isn't a minimum of 4-inches tall, you've probably wasted your money. Customers would then unlikely be able to view what your brand is trying to say, however quirky or smart it might be. Hire a professional for your work as they would know the exact resolution for your images and content.
Overly bright or dark lighting, non-traditional layouts or even abstract colors might disrupt the entire setup. Also, try and limit the text on your display. No one will really stop to read paragraphs or long sentences.
10. Not collecting leads properly
To truly gauge whether your appearance at a show was successful or not, you will have to follow up with your leads and engage with them after the event is done and dusted.
To ensure that you've collected the right leads and have all the details you need, it's important to invest in a good lead collection software.
If you purchase the wrong one or don't buy one at all, a lot of the money you would have invested in your booth is likely to go down the drain. A good lead generation software won't be heavy on your pocket, and even if it is, the long-term benefits will definitely be worth it.
Being in charge for the budget of San Diego trade show booth rentals can be quite stressful. Understanding how much to spend on what is crucial to the success of the show. Now that you know about the common mistakes you should not make, you should be well on your way to tasting success at the end of the event.