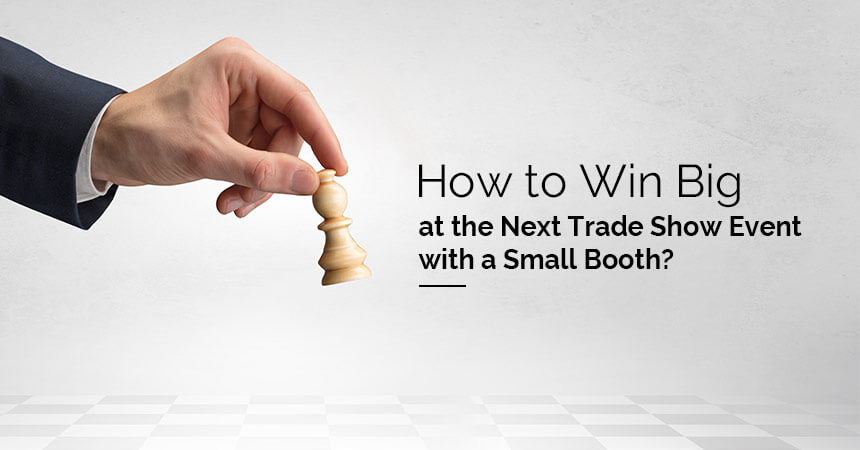 How to Win Big at the Next Trade Show Event with a Small Booth?
How to Win Big at the Next Trade Show Event with a Small Booth?
In any event show, the size of the booth is not as big a concern as it is made out to be. Despite everybody wanting to set up a large booth, many booth rental companies support the fact that small booths still achieve the same purpose of the business that a large booth provides.
In fact, small and tiny booths are capable of standing out on their own and being the center of attraction, if only some well thought out ways are implemented correctly.
There is a lot of competition at a trade show and it is all about catching the eye of the visitors at the given moment.  A little prior preparation will ensure that a small booth gets all the attention that is needed and people would actually stop by and admire the products on display.
Having a booth as small as 10×10 gets cramped but its impact can be big if used in a thoughtful way. First of all, accept the fact that it is small. Now, the next in line requirement is that though small, it should have wider visibility to the audience.
People should see it and get to know immediately what the product is. Half the job is done. Here are some ways that a compact trade show booth ideas to boost business at any trade show:
Creative trade show booth ideas to attract visitor
Light it Up for Maximum Impact:
Exhibit booths thrive on efficient lighting. If you want your brand and product to make an impression on the audience, then choose adequate lighting or else, the booth will disappear into the backdrop of the show, without being noticed.
Lighting has the ability to attract visitors to the display and influence their behavior. Well placed light leads the visitors in your pre-selected directions and creates a subconscious mood making it easier for the sales team to pitch in.
Cool trade show booth ideas like colored LED tape, uplights, moving lights, etc. get the most visitors, which in turn, mean better volume of potential customers.
Entice Customers with Something Creative:
Get into a creative and novel mode to draw customers in. Give freebies like webinar or white papers which are put to good use or develop a unique theme for the booth.
When offering giveaways, make sure that they have the brand name and logo prominently displayed along with your contact information. Other great ideas include giving pens, notepads, candies, water bottles, cookies, etc. depending on the brand that you are promoting and its relation with the chosen giveaway.
Try to relate the giveaways to the brand, it creates a long-lasting impact. Do not stick to one traditional approach when dealing with customers. Set up a phone charging unit at your booth, visitors would throng your booth like a bee goes after a flower.
Get a trained staff team that is able to engage the customers that pass by. They should approach the customers in a way that makes the customers comfortable to get into a conversation. The booth should be friendly and approachable, make a difference in representing your brand, not just you.
Create a Splendid Display:
Custom trade show displays booths need not be large to make a remarkable impact. For people to turn their heads towards a small booth, a few tips in display work in your favor:
Convey the right amount of information: Utilize the custom exhibit booth space by conveying only the piece of information that is absolutely needed. Overburdening the visitors with loads of information will put them away. Select an eye-catching tagline or image and project it to represent the product and the brand.
Make it easy and simple: The display that is put up should be easily readable and understandable. Do not use fancy fonts and styles, stick to visible graphics that can be noticed from a distance.
Appropriate colours and images: Opt for subtle images and colours that do not go over the board in attracting the visitors. Remember that the visitors should evince interest in the booth and not get disturbed by the colors on display.
To make a display unique and effective, choose custom exhibit booths that feature customized printed displays with affordable graphic design services. These professional teams make a perfect design of the display and are able to make modification according to the company logo.
Booths and Quality of print:
If a display is branded, do not assume it to be of the best quality. Not all displays are created to last for a long time to come. Nobody wants a carefully made display to break apart after only a few events.
This is where a professional printer comes into the picture. They use superior quality materials which naturally show their effect on the high-quality displays that they make.
When it comes to setting up an ideal booth, reputed booth rental companies should handle every feature of the booths such as design, setup, delivery, taking down, storage, et al. Companies offer modular rentals, portable exhibits, pop-up exhibits, carpeting, and décor accessories. All these factors have to be considered when setting up a booth.
There are a number of successful exhibits that are small and being big is not always the solution. Baby booths, as they can be called, are a huge success not because of their size but an effective idea.
Whether the booth is small or big, the idea to showcase it to the visitors should be big. The time you get at your booth from each visitor is mere moments. These can be converted into a potential business by sending out the right message with a well-planned display.