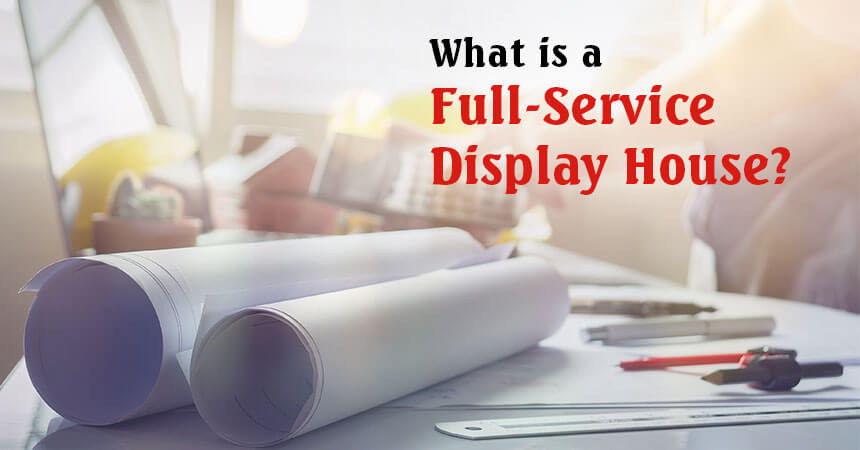 What is a Full-Service Display House?
What is a Full-Service Display House?
A Full-Service Display House is a company that provides all the services necessary to design, produce, and manage trade show exhibits for their clients.
The breadth of these services will be discussed here in this article. Other types of display houses and related companies will also be discussed. For extra background information, you might find it helpful to read our article on the major players involved in putting on a trade show.
Official Contractors
Looking at the show service manual, you will see a list of Official Contractorsendorsed by the Show Organizer. This list will include the General Service Contractor (also called the General Contractor or GSC/GC for short) who oversees many things like floor space layout, drayage, overhead signs, event registration, and exhibitor kit production.
You will also see a list of Exclusive Contractors that offer services that the GSC does not provide, such as audiovisual, in-booth security, furniture, special shipping, and more.
Non-Official Contractors
What you will not find in the show service manual is a list of Non-Official Contractors. They are not endorsed by the Show Organizer or the General Contractor. Exhibitors can hire Non-Official Contractors for any service that is not exclusive to the Official Contractors.
Display Houses and Installation & Dismantle Companies
Common types of Non-Official Contractors are Display Houses (also known as exhibit companies), and Installation & Dismantle companies (also known as labor companies or I&D for short). I&D companies specialize in – you guessed it – installing and dismantling trade show booths.
They usually have a small storage facility for equipment that will be used to install and dismantle their client's booths at show sites. I&D companies commonly employ union workers and thus may charge a 4-hour minimum for any work.
Display Houses specialize in custom designing and building trade show booths. They do the design and manufacturing work "in-house" and then ship the booth either directly to the show site or an advanced warehouse. Display Houses may offer I&D services themselves or subcontract to a specific I&D company that they like to do business with.
Full-Service Display Houses
The "full-service" title is given to a Display House company that offers the design, manufacturing and I&D component. In other words, a Full-Service Display House does everything an exhibitor needs to design and build their exhibit and get it in and out of trade shows:
Graphic and exhibit design
Custom fabrication
Storage
Preparation of exhibit properties
Administration of all pre and post-show logistics
Is Your Display House a Full-Service Display House?
So, if you are looking to work with a Display House, consider asking them questions to see if they are a Full-Service Display House or not. The more services they offer "in-house," the better equipped they are to handle your account through and through. They should also be able to provide cost-effective pricing.
Questions to considering asking:
Do you provide graphic design and production in-house?
Is your warehouse climate-controlled for ideal storage?
What type of exhibit rental properties do you provide?
Do you have union contacts, or do you work with an I&D contractor?
What type of project management and logistics services do you offer?
What brands do you support and service?