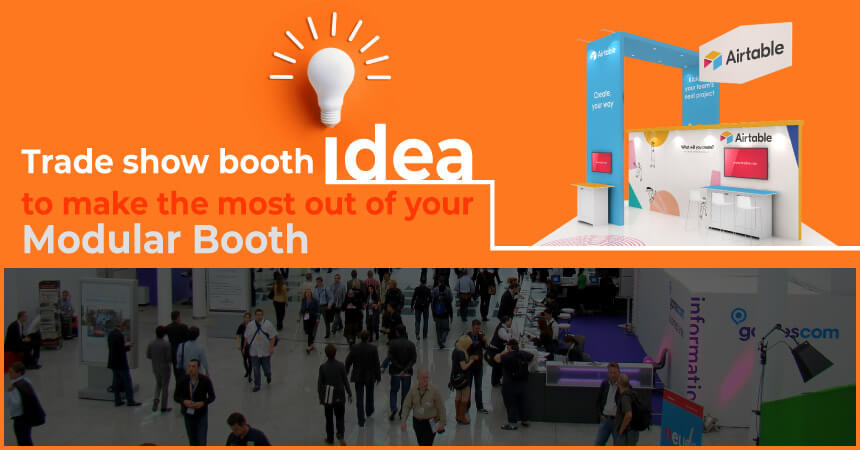 Trade show booth ideas to make the most out of your modular booth
Trade Show Booth Ideas to Make the Most Out of Your Modular Booth
Both regular modular displays and custom modular displays offer versatility in their design through combining scalable aluminum frames that can be attached with lights, wall fabrics and other attachments. Its frame and design can be adapted to different design combinations without increasing your expenses.
A modular trade show booth has a flexible frame that adjusts to different booth sizes and heights. With modular booths there are several ways to be creative and design the booth into something original. We here at Exponents have ideas you can utilize for your booth designs, but before that it's important to get your concept and trade show objective bolted down.
Get Your Concept Finalized First
Any visitor at the show should be able to instantly recognize the brand message behind your booth. Your trade show booth should take the best trade show booth ideas and distill it into a single concept that fits your brand. Initially, when you start planning, comparing and coming up with booth design proposals is going tedious. So, we advise you to start as early as you can, this gives you enough time to consider each proposal.
Starting early will also give you the flexibility to make adjustments to your concept depending on the circumstances. This flexibility is where modular trade show booths shine since unlike fully custom booths, you don't have to start a year in advance. Even the start of three months is enough for you to improve your booth presence.
Define your trade fair objective
Your trade show objective will shape your booth concept. To figure out this starting point, you need to have the answers to the following questions.
Are you trying to launch a new product or service?
Get new customers?
Strengthen your existing network?
Showcase a new brand direction?
Once you have the answer to that, the concept your booth will be about should click. You will know precisely which trade show booth ideas will get you closer to your trade show booth objective. Once you have figured out if your booth is product or solution orientated, you can start referring to the tips below:
1) The right shape makes an impact!
If you pick the wrong shape for your booth, you lessen the impact of your brand. For, example rounded or rippled shapes have a stronger impact on exhibitors whose brand is part of the FMCG industry. While more linear shapes work best for companies that are in the manufacturing sector.
Height is also affected how the shape is perceived, we compare shapes all the time, so a product on an elevated podium will have a great visual impact over a product kept on the shelf.
2) More is Clutter
Putting up too much on display will distract from visitors. It also harms your trade show objective as an exhibitor, since your staff will not able to give a clear briefing about what your company is about. Your staff will end up with fatigue as they end up spending more time clearing doubts about why your company is participating at the trade show rather than getting the chance to talk about what your company has to offer.
Energy is a limited resource for your visitors and your staff, so the less divisive elements you have at your booth, the less information there is to manage, leading to a better presentation and interaction with visitors.
3) Pay Attention to Color
Colors hold a special meaning for humans. The spectrum of emotions color invoke on a subconscious level is well-documented. Red for instance is associated with excitement and passion, while blue is often associated with stability and productivity.
So hire booth designers in your concept team, they have a practical understanding of color theory. They will be able to recommend you the right colors to ensure that your booth gives the right impression to visitors.
4) Use pictures along with graphics
As the saying goes 'A picture is worth a thousand words' A picture is more effective than text or graphics, since it instantly conveys the message. A happy smiling mother with her infant tell you instantly that the brand is either into pediatric care.
It takes a fraction of a second to see a picture and get it's context. Pictures are especially useful to convey useful information that is not easy to understand. Supplemented with graphics and logos, you will make your booth graphics much more effective.
5) Choose lighting with care
Light and shadow has a strong effect on texture and shape. Lighting is also crucial for creating a specific aesthetic, that why you will see mood lights, backlights and spotlights being deployed for on-site marketing campaigns. Complementary lighting on the right graphics or product will augment the effect you wish to have on visitors.
Just make sure that you don't employ lighting that blinks or moves a lot or cycles through multiple colors, since this a trade fair and not a night club. So you want to stay within the professional bounds of using lighting.
6) Create a comfortable atmosphere
At the very basic, make sure that the temperature at your booth is right. After that, it's all about training your staff, to know when to give space to visitors at your booth. Knowing when to give your visitors time to look at your company and products, contributes to their feeling of comfort.
Have a seating area or a workstation area, so visitors can relax. Having comfortable carpeting will also make prospects stick around longer and chat with your staff.
7) Pick the right location
To choose the correct booth from dozens of trade show booth rentals types is important. It is also important to pick the right trade fair and booth space for your booth and business. The trade fair, you choose must fit your trade fair objective. Sometimes, the most popular one isn't always the correct one for your brand.
Other than that, for your booth space we advise you to choose a location that isn't too far away from the entrances and exits. Also, don't make the mistake of setting up your booth, right next to your competition, as this makes getting visitors interested in your booth, even more difficult.
8) Consider Technological Solutions
Technological solutions have already been adopted by trade fairs. So you can do the same for your modular trade show booth. Modern, technological options are exiting since they can offer a multi-sensory experience. Technologies such as VR and AR are used extensively in modern technology to create a tactile experience that is engaging and memorable for visitors.
Hand-held scanners let you process contact information from visitors into your database within seconds. But as an exhibitor you have to decide what technological solution you need to deploy for achieving your trade fair objective. After all, technology is like a tool and the right application as per your trade fair objective is essential for success.
So there you have it, eight tips to make the most out of your trade show booth ideas. We hope that these tips make it easy for you to plan out your next steps.