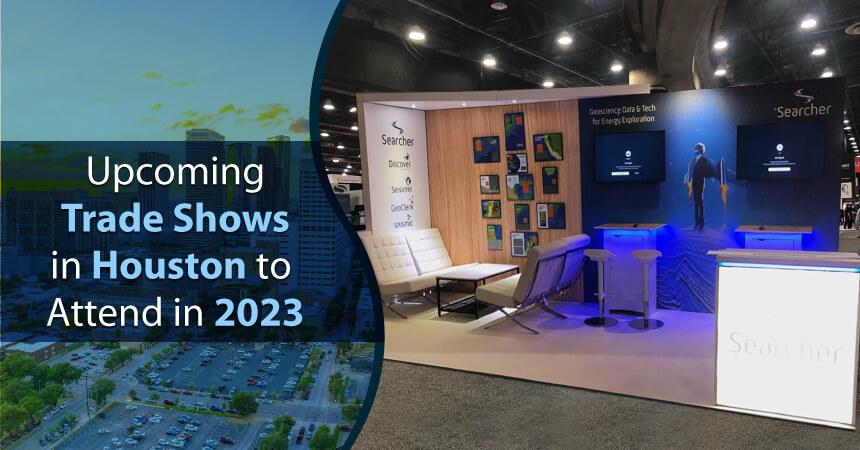 Upcoming Trade Shows in Houston to Attend in 2023
Houston Trade Shows 2023
With long summers and short winters and numerous ways to beat the heat, Houston is favored by many as the desired venue for trade shows. A never-ending array of food and delicacies makes the city a favorite among visitors. From infrastructure to landscapes, the town has a vivacious vibe. It's no surprise that these factors make Houston the desired place to plan trade shows! Due to short winters and year-long pleasant weather! Here are top upcoming trade shows that one must attend in Houston in 2023.
Jump to Section
1. IMAGE Expo
When: November 12-13, 2023
Where: George R. Brown Convention Center
About The Trade Show:
Image Expo is considered one of the most popular trade shows in Houston, where you'll find various beauty products from the industry's top brands. Over 500,000 licensed cosmetologists within a 200-mile radius of Houston make it one of the U.S.A.'s major beauty markets. And its proximity to Houston makes this a popular event.  This event introduces you to various products for nails, hairs, skin, makeup aesthetics, etc. So buckle up, save the date, and join over 7000 attendees and approximately 110 exhibitors at this extravagant event.
2. Society Of Exploration Geophysicists – Seg AAPG Image 2023
When: August 28 – September 1, 2023
Where: George R. Brown Convention Center
About The Trade Show:
The Image 2023 is the energy industry's most vital geosciences trade show. It brings together a community of energy leaders under one roof. Exhibiting at this event provides exhibitors like you with a unique opportunity to align with industry progress and reach the global geoscience community. By exhibiting you demonstrate your commitment to advancing applied geosciences and re-investing in energy. Image 2023 helps spotlight your brand and offers an array of options to drive traffic to your booth, ensuring your brand is foremost in potential clients' minds. Access nearly 1,000 innovative technical presentations, panels, and more, all while connecting with over 6,000 geoscientists from 80+ countries. Ensure a successful event by planning an engaging exhibit display, that'll surely leave a lasting impression.
3. Breakbulk Americas
When: September 26 – 28, 2023
Where: 1001 Avenida De Las Americas
About The Trade Show:
Breakbulk Americas is the biggest trade event for project cargo and breakbulk in the region, and is an unparalleled opportunity to meet key sector professionals. With 4,500+ attendees, 200+ exhibitors, and 350+ global shippers, this show brings together a mix of decision-makers, including those who decide on contracts. As an exhibitor, you gain an invaluable platform for networking. Meet project owners face-to-face, share your services directly with buyers, and stay updated on emerging industry trends. Exhibit at Breakbulk Americas and contribute to completing global projects. Secure your trade show booth today and take your business to the next level.
4. Texas Covered Conference & Expo
When: November 06-08, 2023
Where: Hilton Americas
About The Trade Show:
This trade show gives you direct access to key decision-makers in health care. This networking platform allows you to connect and interact with health care professionals, influencers, and innovators from all sectors. Texas Covered focuses on pressing industry issues, presenting insightful conversations, presentations, and panels. By exhibiting, you'll stay up-to-date with emerging trends, ranging from federal health care reform to day-to-day operations. Exhibiting at this trade show will help you showcase your solutions to decision-makers from the managed health care industry, legislators and governing state agencies. For an enticing exhibit booth experience and to maximize your participation, look for an experienced trade show booth builder to collaborate with.
5. BREAKBULK AMERICAS
When: September 26-28, 2023
Where: George R. Brown Convention Center
About The Trade Show:
Breakbulk Americas is the trade show for all those interested in the project cargo and break bulk industry. The focus here is on companies and projects from Canada down to the tip of Argentina and the Caribbean. It is the one-stop destination to expand your operations in one of its most promising territories.
The event is estimated to gather more than 500 presenters, while 50,000 visitors are expected. It can be an ideal place to showcase your business by choosing any exhibit services company in Houston.
6. Energy Transition North America 2023
When: November 07–08, 2023
Where: Houston Confex
About The Trade Show:
Energy Transition North America 2023 offers an opportunity to the exhibitors like you to connect with over 1,000 attendees, including decision-makers and 75+ CEO & executive speakers. You'll have unparalleled access to a diverse audience, including a 50% representation of energy producers, and can showcase your contributions towards cutting-edge climate technologies. Connect with over 80 handpicked solution providers, secure a tangible, reliable, and resilient ROI, and open doors for potential collaborations and deal-making through 20+ hours of networking. Secure your exhibit rental today to shape the future of energy!
7. Abilities Expo
When: August 04-06, 2023
Where: NRG Center, Hall E, Houston, TX
About The Trade Show:
If you wish to visit a place with it, all this can be your destination!! From technological developments to an array of fun games and informative workshops, Abilities Expo has plenty to offer. From wall climbing to adaptive sports and dance opportunities, they have something for everyone.
The expo is expected to generate 5000 visitors for 500 exhibitors making it an ideal place for networking and getting contacts.
8. Quilt Market Houston
When: October 28- 30, 2023
Where: George R. Brown Convention Center
About The Trade Show:
Quilt Market Houston is one of the largest quilt shows in the United States People from around the world attend the festival regularly. You'll find over 500 booths selling quilts, fabric, materials, and crafts, as well as seminars and talks for people across all levels. Quilts and uniquely designed works of textile art will be on show during the festival. This year Quilt Market Houston will bring over 20,000 visitors under one roof.
The trade show commands a good amount of credibility by allowing only selected exhibitors and certified buyers. Exhibiting this event will give you access to the most authentic set of buyers and let you connect with other significant businesses in the industry.

9. Spe Hydraulic Fracturing Technology Conference & Exhibition
When: February 06-08, 2024
Where: The Woodlands Waterway Marriott Hotel
About The Trade Show:
This trade show is an unparalleled opportunity to showcase your latest products, services, and innovations to key decision-makers. They can experience your offerings first-hand and understand how your solutions can propel their organizations. This trade show allows you to engage in insightful conversations as you exhibit your innovative prowess. The SPE Hydraulic Fracturing Technology Conference & Exhibition is a platform to promote your brand. Here, you can also integrate your solutions into the industry narrative. Plus, this event serves as an excellent opportunity to form solid business relationships.
10. Houston Auto Show
When: January 24-28, 2024
Where: NRG Park, Houston, TX
About The Trade Show:
The Houston Auto Show is a chance for companies like yours who are targeting car and truck enthusiasts. It is the largest new car show in Texas and attracts hundreds of thousands of passionate consumers eager to engage with your brand. The expo features a range of attractions – from ultra-luxury cars, live car wraps, giveaways, and contests to the introduction of cutting-edge automotive technology. The expo, with its many features, caters to the broad interests of its large audience. It's the ideal show to interact with your prospects, showcase your products and innovations, meet new customers, and accelerate business opportunities. Don't miss this chance to host your trade show display and network with your target audience at this key industry event.
Check out some our latest work!!
11. ENTELEC Conference & Expo
When: 
Where: George R. Brown Convention Center
About The Trade Show:
The ENTELEC Conference & Expo will occur during the first week of May. It is a global leader in energy operator member operations. Members who deliver adherence, efficiency, safety, and creation to the business units of energy companies like petroleum, pipeline, natural gas, etc. utilities by leveraging all elements and interactions of telecom, communication technology, the internet, digital transformation, IIoT, automation, cybersecurity will be gathered under the same roof. This trade show is expecting around 20,000 visitors and 500 presenters.
12. NAPE Summit – North American Prospect Expo
When: February 07-09, 2024
Where: George R. Brown Convention Center
About The Trade Show:
NAPE serves as the energy industry's central hub where stakeholders buy, sell, or trade potential sites for oil, gas, and now, even bitcoin mining and renewable energy sources. It welcomes all industry roles, making it a key meeting place for decision-makers. It emphasizes participation from prospect generators and accommodates companies of all sizes – from small independents to major corporations. Success in the industry depends on who you know, and there's no better place to strengthen existing relationships and form new ones than NAPE.
At this show, exhibitors like yourself can see and be seen by small independents and industry majors alike, including those in bitcoin and renewable energy. Showcase your products and services to a broad audience, underscoring your brand's ability to adapt to the future. Every year, the event attracts a significant number of attendees, and more than 80% of these individuals consistently recognize the value of participating in the show and continue to attend.
13. Houston Fishing Show
When: February 14-18, 2024
Where: George R. Brown Convention Center
About The Trade Show:
The Houston Fishing Show gives you access to a vibrant community of passionate anglers! It is the largest and longest running consumer fishing show in the USA. This trade show gives exhibitors like yourself a chance to meet thousands of potential customers on a 200,000 sq ft trade show floor. The show gives you a chance to display your products like fishing tackle and fishing boats and forge lifelong relationships with your target audience! Get your engaging trade show booth display today and enhance your ROI.
Conclusion
Throughout the year, there are numerous tradeshows and events taking place in Houston, tx. If you plan to present in any of them and require
trade show displays
in Houston, tx, or wish to get
trade show exhibit rentals
select Exponents to put your best foot forward and stand out from the crowd.
Exponents is the USA's leading exhibit services company. We have offered several trade show exhibit rentals to numerous clients and have helped them achieve their objectives. Fill the form below to get help for everything from the delivery to the storage & the maintenance of the customized and rental booths.
Disclaimer: The reader be informed the serial number given on this page is not a ranking order for the shows and the content herein is put in an order that makes it easier for the reader to search details of a specific show and quickly navigate through the page.