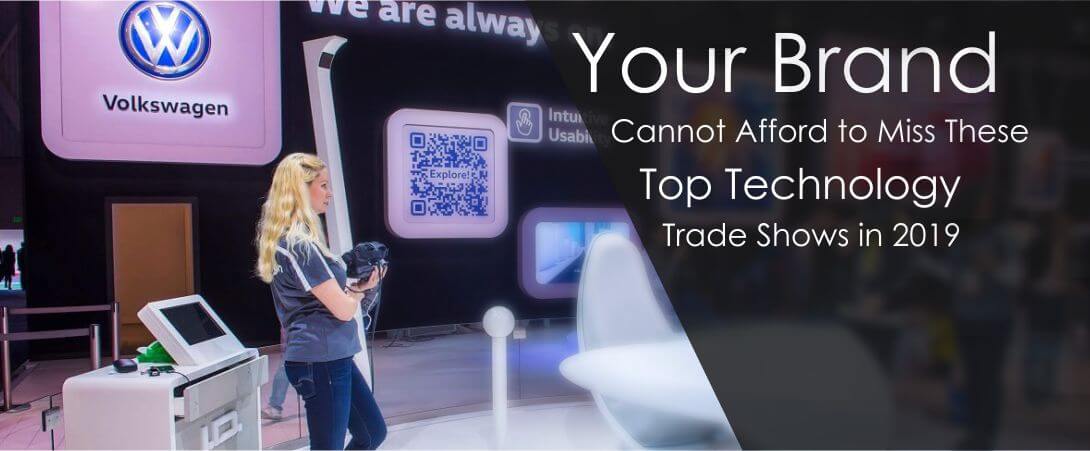 Your Brand Cannot Afford to Miss These Top Technology Trade Shows in 2019
Your Brand Cannot Afford to Miss These Top Technology Trade Shows in 2019
If you are into the technology industry vertical, your marketing team realizes the value of making calculated investments in participating in selected shows.
Given that we are the beginning of the New Year 2019, it makes enormous good sense for your marketing team to immediately get down into the act of brainstorming on the list of the top technology trade shows in the United States of America this year.
In considering which technology trade shows and conferences make the cut, we have accorded due prominence to the historic success record of trade shows, tentative dates, location and finer aspects of specialties, the community that you can find and above all the value proposition.
Take at this list of the elite league technology trade shows and conferences that we are sure that your brand simply cannot give a miss:
1. IPC APEX EXPO 2019
The trade show that stretches across five days aims to bring together diverse communities of leading corporate executives, managers, professionals and business operators in the electronics manufacturing industry vertical for comprehensive dialogue, demonstration, and deliberations.
On the agenda of the trade show are sessions for a technical conference, product show, networking, professional certification programs and development of standards.
It is one of the largest events for electronics manufacturing in the USA, with an attendance of more than 9000 professionals from 45 countries. Get endless networking opportunities and make business connections with the leading industry champions by exhibiting in this expo.
Date: 29th to 31st January 2019 Place: San Diego Convention Center, San Diego, CA
2. IT EXPO 2019
A popular trade show that attracts the attention blue-chip corporations and small and medium enterprises in the communications industry vertical, it is likely to be attended by a vast spectrum of communities such as services providers, government officials, manufacturers, business owners, and developers.
A major trade show in the communication and technology domain, it aims to demonstrate a wide spectrum of products and services that are associated with technology for business.
On the agenda of the trade shows are dedicated sessions for multiple conferences and seminars, product demonstrations, forums for  knowledge sharing and industry networking.  Build your network with a wider audience and get maximum exposure by participating in this expo.
Date: 30th January to 1st February, 2019 Venue: Broward County Convention Center, Fort Lauderdale, USA
3. Developer Week, 2019
Developer Week takes place on a worldwide scale, and it is the largest developer conference and trade show event globally. Attended by more than 8000 attendees and 90+ DevTech exhibitors from more than 40 countries from across the world, it is not merely a conference.
It is a conglomeration of Silicon Valley and West Coast developer innovation on a grand scale at the largest developer event in the world.
Date: 20th to 24th February, 2019 Place: Oakland Convention Center, San Francisco, California (CA)
4. Healthcare Information and Management Systems Software (HIMSS)
Inviting more than 45000 professionals from across the world to discuss for business collaborations and innovations, HIMSS enables the attendees to get solutions to the biggest health information and technology challenges with a world-class education, cutting-edge products and networking opportunities.
The trade show shall hold 300+ education sessions, 1300+ vendors, and hundreds of special programs and endless networking events.
Exhibit in this conference to get access to meet and engage with high-class business professionals to further your business growth.
Date: 11th – 15th February, 2019 Venue:  Orange County Convention Center, Orlando, Florida
5. IBM Think 2019
It is a unique tech event that invites more than 40,000 innovators, leaders, and thinkers from across the globe, to enable you to sharpen your skills and get hands-on experience with the latest technology.
It provides a platform to your brand to establish a professional network with the world's most celebrated technologists and thought leaders.
Get all the relevant insights of the latest technologies, from Artificial Intelligence (AI) and the Internet of Things (IoT), to cloud and Blockchain. Align your brand with the conference that is helping the world put smart to work.
Date: 12th – 15th February, 2019 Venue: Moscone Convention Center, San Francisco, CA
6. SXSW 2019 – South by Southwest Conference & Festival
SXSW offers the best programs that demonstrate the new websites, video games, and start-up ideas with the best-in-class digital creativity and cutting-edge technologies.
Get a chance to exhibit in this conference and display the line of your brand products and services that holds a promise of making the future tech-friendly. It is a great platform to explore what's next in the world of film, culture, music, and technology.
Date: 8th – 16th March, 2019 Venue: Austin, Texas
7. NAB Show
This trade show is a great platform where the people that work behind the screen, i.e. Broadcasters gathers and get the latest entertainment and education related to this field. It is an event of global value where media professionals and persons from entertainment and technology fields meet and expand their business networks.
The exhibit space of National Association of Broadcasters is spread over 1 million net square feet, and over 1,700 exhibiting companies are going to participate in the event.
Dates: 6th – 11th April, 2019 Venue: Las Vegas, Nevada
8. ISC West
Get a chance to meet and build a dialogue with the leading technical representatives from more than 1000 companies, hailing from the security industry, and build your network with over 280,000 security professionals.
The International Conference & Exposition (ISC West) is a big industry event in the USA for the industries of physical security. Major tracks of the conference include areas of control access, monitoring and alarms, biometrics, video surveillance, CCTV, IP security, and products for network security.
Date: 10-12 April, 2019 Venue: Las Vegas, Nevada
9. Offshore Technology Conference (OTC), 2019
This is a technological conference where professionals hailing from energy sector meet and interact to build a dialogue and offer their opinions to develop the knowledge of science and technology for offshore resources and environmental matters.
It is an annual event that is going to celebrate 50 years since its beginning in 1969, this time.  Get optimum learning by participating in the trade shows conducted here for anyone that wants to learn about any type of technology, and build your networking connection with the leading professionals at the same time.
Date: 6th-9th May, 2019 Venue: NRG Park. Houston, Texas
10. Western Turbine Users Conference
A major industry event in the vertical of gas turbines, the Western Turbine Users Conference brings together technical experts for a comprehensive round of dialogue and knowledge sharing sessions on GE LM2500, LM6000 and other lines of engines.
On the agenda of the conference are challenges associated with environmental implications, and operations of power plants fired with gas turbines.
Held annually, it also offers multiple opportunities for the attendees to establish an effective network with their fellow industry workers.
Date: 17th-20th March, 2019 Venue: Las Vegas, Nevada
11. GlobalCon 2019
Organized by the Association of Energy Engineers (AEE), this conference offers hands-on, up-to-date information that can be utilized to improve your energy management program and initiate innovative technological solutions to help you meet your goals.
Communities of attendees of the conference include corporate executives, managers and technical professionals and leading voices from public sector enterprises and departments from the vertical of energy engineering.
Date: 21st-22nd March, 2019 Venue: Hynes Convention Center Auditorium and Hall C, Boston, MA
12. Automate 2019
Held once in every two years, Automate offers you a wide spectrum if automation technologies and solutions. Incorporating automation in any industry makes it a stronger on the global scale of competition.
In order to excel, you need to have access to the right technology, the right expertise and right solution providers. Participate in this expo to find the best ways to automate every process in your company by finding solutions ranging from the traditional industrial application to cutting-edge new technologies.
Date: 8th-11th April 2019 Venue: Chicago, Illinois
13. Electric Power Conference + Exhibition
The Electric Power Conference and Exhibition is known as the meeting place for power generators to get state-of-the-art training, expand the arena of their education, and increase comprehension of administrative and strategy changes, and access the most recent items and innovations accessible available, guaranteeing more secure, progressively effective and increasingly productive facilities across power generation.
Date: 23rd-26th April, 2019 Venue: Las Vegas, Nevada
14.AISTech 2019 — The Iron & Steel Technology Conference and Exposition
Organized by Association of Iron and Steel Technology, this event offers solutions to the steel producers in terms of the latest technologies to enable them to compete effectively in the competitive world today.
In order to establish a sustainable steel industry, you must participate and look forward to attend this event that provides a perspective on the technology and engineering expertise.
Get unlimited chances to network with your industry peers and discover ways to improve your productivity by attending or exhibiting at this event.
Date: 6th-9th May 2019 Venue: Pittsburgh, PA, USA
15. SAMPE 2019 Technical Conference 
Improve your understanding of the business, associated with leading industry practitioners and producers, and gain understanding into the most recent materials and procedures applications at SAMPE 2019, that is going to be held in North Carolina.
The major highlights of the event include Carbon fiber composites, composites for aviation applications, and composites for cutting-edge performance projects, which is solely devoted to advanced materials and procedures.
Date: 20th-23rd May, 2019  Venue: Charlotte, NC
Pick a trade show event of your choice, plan your schedule and attend the event to gain access to a plethora of learning opportunities. If you are a brand that is planning to exhibit at one or more of these tech events, simply hire a trade show booth partner, and get maximum opportunities to enhance your business in 2019.